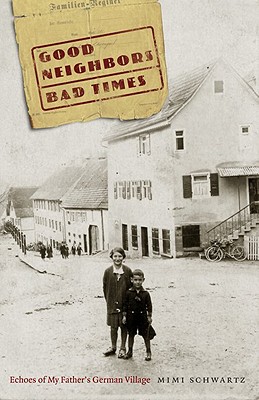 Good Neighbors, Bad Times (Hardcover)
Echoes of My Father's German Village
University of Nebraska Press, 9780803213746, 280pp.
Publication Date: March 1, 2008
* Individual store prices may vary.
Description
Mimi Schwartz grew up on milkshakes and hamburgers—and her father's boyhood stories. She rarely took the stories seriously. What was a modern American teenager supposed to make of these accounts of a village in Germany where, according to her father, "before Hitler, everyone got along"? It was only many years later, when she heard a remarkable story of the Torah from that very village being rescued by Christians on Kristallnacht, that Schwartz began to sense how much these stories might mean. Thus began a twelve-year quest that covered three continents as Schwartz sought answers in the historical records and among those who remembered that time. Welcomed into the homes of both the Jews who had fled the village fifty years earlier and the Christians who had remained, Schwartz peered into family albums, ate home-baked linzertorte (almost everyone served it!), and heard countless stories about life in one small village before, during, and after Nazi times. Sometimes stories overlapped, sometimes one memory challenged another, but always they seemed to muddy the waters of easy judgment.
Small stories of decency are often overlooked in the wake of a larger historic narrative. Yet we need these stories to provide a moral compass, especially in times of political extremism, when fear and hatred strain the bonds of loyalty and neighborly compassion. How, this book asks, do neighbors maintain a modicum of decency in such times? How do we negotiate evil and remain humane when, as in the Nazi years, hate rules?
About the Author
Mimi Schwartz is a professor emerita of writing at Richard Stockton College. She is the author of  Thoughts from a Queen-Sized Bed, available in a Bison Books edition, and Writing True, the Art and Craft of Creative Nonfiction (co-authored with Sondra Perl). Her essays have been widely anthologized and six of them have been Notables in Best American Essays.
or
Not Currently Available for Direct Purchase