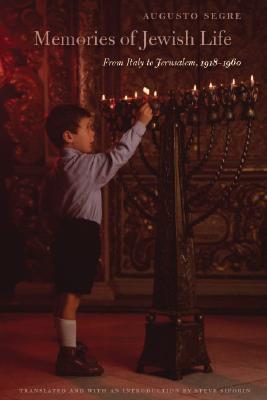 Memories of Jewish Life (Hardcover)
From Italy to Jerusalem, 1918-1960
University of Nebraska Press, 9780803213784, 542pp.
Publication Date: September 1, 2008
* Individual store prices may vary.
Description
In this lyrical memoir, translated for the first time into English, noted Jewish historian, author, translator, and activist Augusto Segre not only recounts his rich life experiences but also evokes the changing world of Italian Jewry in the twentieth century. Raised in the traditional Jewish community of Casale Monferrato in the former ghetto, Segre depicts the changes wrought on his people by emancipation, fascism, world wars, and the Holocaust.

Segre was a vocal opponent of Italian fascism and a combatant in Italy's partisan war against the Nazis. With the help of Italian peasants, he and his family spent eighteen months evading German and Italian fascist soldiers during the German occupation of Italy. Segre also was an ardent Zionist who helped refugees escape to Israel and ultimately immigrated himself in 1979.  He spent three months in Israel in 1948, chronicling Israel's War of Independence.
With an ethnographic eye, Segre interweaves his own memories with those of his rabbi father and uses newspapers, public documents, and letters to reveal the shared emotions and moods of a people and the impact the greatest events in European and Jewish history had on them all. The trend of Italian Jews toward assimilation was evident in Segre's time, and an awareness of it pervades this work. Memories of Jewish Life provides a rare glimpse into a traditional, religious and vibrant working-class Jewish community that no longer exists.
About the Author
Augusto Segre (1915–86) was born in the northern Italian town of Casale Monferrato and died a citizen of Israel. He was a professor at the Italian Rabbinical College and the Lateran Pontifical University and authored nine books.
Steve Siporin is a professor of folklore at Utah State University. He is the author of American Folk Masters: The National Heritage Fellows.
Praise For Memories of Jewish Life: From Italy to Jerusalem, 1918-1960…
"In this beautifully written book, newly translated into English, Augusto Segre recounts his life experiences with insight, philosophy, and gracefully told anecdotes. . . . The traditional religious and vibrant working-class Jewish community that Segre describes, alas, no longer exists but will live forever in the pages of this wonderful book."—Jewish Book World
— Jewish Book World
"Segre's fascinating narrative enables us to understand some things about the Italian Jewish community, especially its horrible experiences just before and during World War II. Our understanding of and appreciation for Italian Jews are greatly enhanced by this fine book."—Morton I. Teicher, National Jewish Post & Opinion
— Morton I. Teicher
"The oral, conversational style of the original Italian has been masterfully rendered by Siporin's translated prose, and readers will delight in the discovery that this important book, which sheds light on a little known community and a very dark chapter in Italy's past, proves moreover to be a most enjoyable reading experience as the memoirs of an individual become the collective history of an entire community."—Rachele Longo Lavorato, Shofar
— Rachele Longo Lavorato