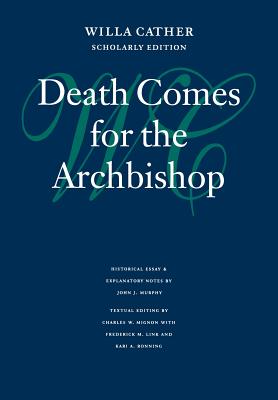 Death Comes for the Archbishop (Willa Cather Scholarly Edition)
Hardcover

* Individual store prices may vary.
Other Editions of This Title:
Digital Audiobook (9/12/2016)
Paperback (10/3/2014)
Paperback (10/19/1927)
Paperback (2/27/2020)
Paperback (9/2/2020)
Paperback (3/26/2020)
Paperback (8/21/2018)
Paperback (3/26/2020)
Paperback (5/14/2018)
Hardcover (1/1/1927)
Hardcover (10/19/1927)
Paperback (5/20/2019)
Paperback (6/16/1990)
Paperback (2/21/2020)
Paperback (7/30/2018)
Paperback (5/25/2020)
Prebound (6/1/1990)
Description
Death Comes for the Archbishop sprang from Willa Cather's love for the land and cultures of the American Southwest. Published in 1927 to both praise and perplexity, it has since claimed for itself a major place in twentieth-century literature. When Cather first visited the American Southwest in 1912, she found a new world to imagine and soon came to feel that "the story of the Catholic Church in [the Southwest] was the most interesting of all its stories." The narrative follows Bishop Jean Latour and Father Joseph Vaillant, friends since their childhood in France, as they organize the new Roman Catholic diocese of Santa Fe subsequent to the Mexican War. While seeking to revive the church and build a cathedral in the desert, the clerics, like their historical prototypes, Bishop Jean Lamy and Father Joseph Machebeuf, face religious corruption, natural adversity, and the loneliness of living in a strange and unforgiving land. The Willa Cather Scholarly Edition presents groundbreaking research, establishing a new text that reflects Cather's long and deep involvement with her story. The historical essay traces the artistic and spiritual development that led to its writing. The broad-ranging explanatory notes illuminate the elements of French, Mexican, Hispanic, and Native American cultures that meet in the course of the narrative; they also explain the part played by the land and its people—their history, religion, art, and languages. The textual essay and apparatus reveal Cather's creative process and enable the reader to follow the complex history of the text.
University of Nebraska Press, 9780803214293, 642pp.
Publication Date: April 1, 1999
About the Author
Volume editor John J. Murphy is a professor of English at Brigham Young University. Textual editor Charles Mignon is a professor of English at the University of Nebraska. Frederick M. Link is a professor emeritus of English at the University of Nebraska. Kari A. Ronning is assistant editor for the Willa Cather Scholarly Edition.