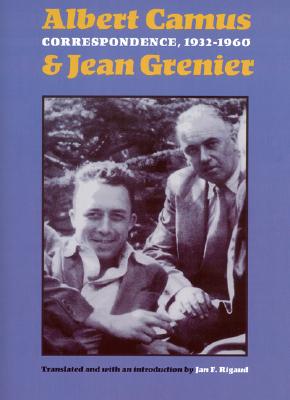 Correspondence, 1932-1960 (Hardcover)
University of Nebraska Press, 9780803214972, 277pp.
Publication Date: May 1, 2003
* Individual store prices may vary.
or
Not Currently Available for Direct Purchase
Description
As a philosophy teacher, mentor, and friend, Jean Grenier (1898–1971) had an enormous influence on the young Albert Camus (1913–1960), who, in fact, acknowledged that Grenier's Les Iles had touched the very core of his sensibility and provided him with both a "terrain for reflection, and a format" that he would later use for his own essays. Their correspondence, beginning when the seventeen-year-old Camus was Grenier's student at the Grand Lycée of Algiers, documents the younger man's struggle to become a writer and find his own voice, a period in which he turned frequently to his mentor for advice, comfort, and direction. The letters cover a period of almost thirty years, from 1932 to Camus's untimely death in 1960. Because Camus destroyed the earlier correspondence he received, the first twenty-six letters in the volume are his only; the full begins in 1940. These enlightening letters offer invaluable glimpses into the development of Camus's aesthetic ideas, literary production, and political stance. In contrast to the correspondence of Grenier, who throughout remains somewhat reticent about his life and doubtful about himself and his works, Camus's letters are a window into his most profound thoughts and sensitivities, delving deeply into his psyche and, at times, revealing a side of the writer unfamiliar to us. Undoubtedly they allow us a better understanding of Albert Camus, the man and the artist.
About the Author
Jan F. Rigaud is an associate professor at Villanova University.
Praise For Correspondence, 1932-1960…
"The University of Nebraska Press [has] made a valuable contribution to Camus studies with Correspondence, 1932–1960, a collection of letters written between Camus and Jean Grenier, the author''s philosophy teacher and mentor."—Allen Barra, Salon
-Allen Barra

"[W]ell-translated and well-annotated. . . . Besides yielding considerable insight into Camus'' private thoughts and feelings, the letters shed light on the fiction, plays, and essays of Camus the writer. Camus readers and scholars will find much to supplement their understanding of the man behind the published work."—Choice

"This wonderful new book provides valuable insight into the complex relationship between Albert Camus and his philosophy teacher, Jean Grenier. In more than 200 letters we chart Camus'' development as a thinker and, now and then, glimpse the fascinating personal life of this most private of literary artists."—Bloomsbury Review

"[A] more human Camus is to be found in his letters to the philosophy teacher from the Lycée Bugeaud in Algiers, with whom he remained friends for the rest of his life."—Robin Buss, Times Literary Supplement
-Robin Buss
Advertisement