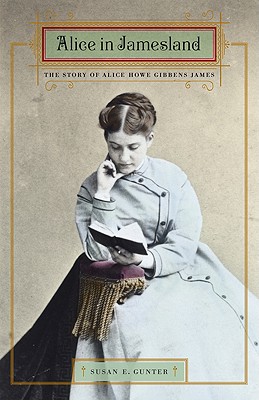 Alice in Jamesland (Hardcover)
The Story of Alice Howe Gibbens James
University of Nebraska Press, 9780803215696, 464pp.
Publication Date: March 1, 2009
* Individual store prices may vary.
Description
Alice in Jamesland, the first biography of Alice Howe Gibbens James—wife of the psychologist and philosopher William James, and sister-in-law of novelist Henry James—was made possible by the rediscovery of hundreds of her letters and papers thought to be destroyed in the 1960s. Encompassing European travel, Civil War profiteering, suicide, a stormy courtship, séances, psychedelic mushrooms, the death of a child, and an enduring love story, Alice in Jamesland is a portrait of a nineteenth-century upper-middle-class marriage, told often through Alice's own letters and made all the more dynamic because of her role in the James family.
Susan E. Gunter positions Alice as a lens through which to view the family, as a perceptive observer privy to knowledge of relationships to which those outside the James family were not. She also portrays Alice as the cohesive factor that held the Jameses together, bridging the gap between brothers William and Henry and acting as the stable center for a highly gifted but eccentric family. An idealistic, serious young woman, Alice was uniquely suited to join this clan, bringing psychological soundness and unshakeable personal conviction to her union with the Jameses. Her life's story provides a fascinating view of one of America's most important intellectual dynasties and offers new insights into the lives of nineteenth-century women.
About the Author
Susan E. Gunter is a professor of English at Westminster College in Salt Lake City, Utah. She is the coeditor (with Steven H. Jobe) of Dearly Beloved Friends: Henry James's Letters to Younger Men and the editor of Dear Munificent Friends: Henry James's Letters to Four Women.
Praise For Alice in Jamesland: The Story of Alice Howe Gibbens James…
"Susan Gunter's Alice in Jamesland is absolutely indispensable to anyone interested in the James family. Gunter gives us a rich, full life—the first biography—of Alice Gibbens James, wife of William, and in the process illuminates, with hundreds of details available nowhere else, the private domestic worlds of William and Henry James. An impressive achievement."—Robert Richardson, author of William James: In the Maelstrom of American Modernism
— Robert Richardson
"Susan E. Gunter in Alice in Jamesland draws a sharp, subtle, and sympathetic portrait of the woman whom Henry James Senior announced would be suitable for his ambitious and neurotic son. The fact that Alice Gibbens emerges as the most sane member of the James family does not perhaps mean much; luckily for us all, the family did not value sanity as highly as, say, talent, or the molding of talent toward genius. In her biography, Gunter manages to recreate, with some ingenuity and tact, the life of a wife and mother in these years in an upper- middle-class Boston household; she charts what it was like to care for one of the most needy and talented figures to emerge from that class."—Colm Tóibín, New York Review of Books
— Colm Tóibín
"Alice in Jamesland is a conscientious biography and a valuable addition to the literature on the family."—Ruth Bernard Yeazell, London Review of Books
— Ruth Bernard Yeazell
"The close view of 19th-century domesticity and Alice's role in an endlessly interesting clan makes Gunter's book a welcome addition to the James family literature."—John Williams, The Second Pass
— John Williams
"[Alice in Jamesland] offers a carefully detailed picture of the rewards and disappointments of the distinctive life of an unsung but essential member of a difficult but fascinating family."—Paul Armstrong, Common Knowledge
— Paul Armstrong
"Gunter's book is likely to remain the definitive biography of Alice Howe Gibbens James for the foreseeable future. A must read for everyone interested in the ever expanding 'Jamesland' lying at the midst of our intellectual history."—Anthony Louis Marasco, American Studies
— Anthony Louis Marasco