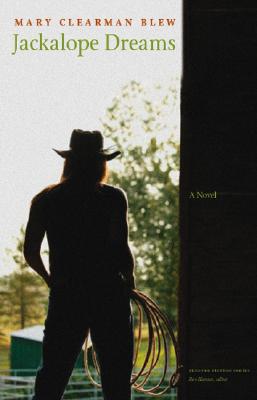 Jackalope Dreams (Flyover Fiction) (Hardcover)
University of Nebraska Press, 9780803215887, 404pp.
Publication Date: March 1, 2008
Other Editions of This Title:
Paperback (9/1/2011)
* Individual store prices may vary.
Description
The departed men in her life still have plenty to say to Corey. Her father, a legendary rodeo cowboy who punctuated his lifelong pronouncements with a bullet to his head, may be the loudest. But in this story of Montana—a story in which the old West meets the new and tradition has its way with just about everyone—it is Corey's voice we listen to. In this tour-de-force of voices big and small, sure and faltering, hers comes across resonant and clear, directing us to the heart of the matter.
Played out against the mythology of the Old West—a powerful amalgam of ranching history, Marlboro Men, and train robbery reenactments—the story of the newly orphaned, spinsterish Corey is a sometimes comical, sometimes poignant tale of coming-of-age a little late. As she tries to recapture an old dream of becoming a painter—of preserving some modicum of true art amid the virtual reality of modern Montana—Corey finds herself figuring in other dramas as well, other, younger lives already at least as lost as her own.
About the Author
Mary Clearman Blew is the author of the acclaimed essay collection All But the Waltz; three books of short stories, including Sister Coyote; and is the editor of When Montana and I Were Young: A Memoir of a Frontier Childhood, available in a Bison Books edition. She is a professor of creative writing at the University of Idaho and twice has received the Pacific Northwest Booksellers Award, once in fiction and once in nonfiction, as well as the Western Literature Association's Distinguished Achievement Award.
Praise For Jackalope Dreams (Flyover Fiction)…
"In Blew's commendable fiction debut . . . [the author's] distinctive narrative voice and knack for description keep the story on track."—Publishers Weekly
— Publishers Weekly
"[Jackalope Dreams] gives us an example—if any is required—of why fiction is still necessary and what it uniquely offers. . . . Sentences seethe with urgent, unhurried energy, and the description of the land the author so clearly loves is in service of the story, not showing off. You come to care deeply about these people, caught between an uncapturable past and an uncertain future. Jackalope Dreams is a small masterpiece."—Paul Wilner, Los Angeles Times Book Review
— Paul Wilner
"Blew knows how to fuse the rugged with the delicate—some readers may be reminded of Plainsong author Kent Haruf's no-nonsense approach."—John Mark Eberhart, Kansas City Star
— John Mark Eberhart
"Engrossing. . . . Blew gets so much right, from her beautiful, clear prose to her sharp humor to her rich characterizations. . . . Jackalope Dreams satisfies."—Jenny Shank, NewWest.net
— Jenny Shank
"Nothing less than stunning: a story beautifully told, characters richly conceived and developed, lessons subtly delivered. . . . It is the poetry and preciseness of Blew's writing that set Jackalope Dreams apart from others of its ilk. Hers is storytelling of the highest order."—Sherry Devlin, Missoulian
— Sherry Devlin
"When Mary Clearman Blew reaches her stride, I dare you to put this book down."—C. K. Crigger, Roundup Magazine
— C. K. Crigger
or
Not Currently Available for Direct Purchase