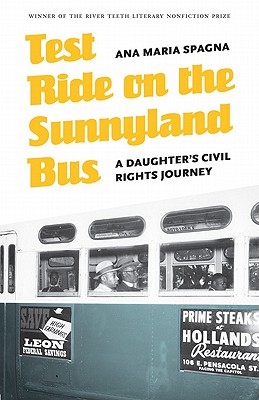 Test Ride on the Sunnyland Bus
A Daughter's Civil Rights Journey (River Teeth Literary Nonfiction Prize)
Paperback

* Individual store prices may vary.
Other Editions of This Title:
Other (5/14/2014)
Description
Test Ride on the Sunnyland Bus chronicles the story of an American family against the backdrop of one of the civil rights movement's lesser-known stories. In January 1957, Joseph Spagna and five other young men waited to board a city bus called the Sunnyland in Tallahassee, Florida. Their plan was simple but dangerous: ride the bus together—three blacks and three whites—get arrested, and take their case to the U.S. Supreme Court. Fifty years later Ana Maria Spagna sets off on a journey to understand what happened and why. Spagna travels from her remote mountain home in the Pacific Northwest to contemporary Tallahassee, searching for the truth of the incident and her father's involvement. Her journey is complicated by the fact that her father never spoke of the Sunnyland experience and died unexpectedly when she was eleven. Seeking out the other bus riders, now in their seventies, Spagna tries to make sense of their conflicting stories. Her odyssey becomes further troubled by the sudden diagnosis of her mother's terminal cancer. Winner of the River Teeth Literary Nonfiction prize, Test Ride on the Sunnyland Bus deftly weaves cultural and personal history, memoir, and reportage in this fascinating look at a family and a nation's past.
Praise For Test Ride on the Sunnyland Bus: A Daughter's Civil Rights Journey (River Teeth Literary Nonfiction Prize)…
"Test Ride on the Sunnyland Bus stands as a magnificent testament and tribute to the lives of many people—Ana Maria Spagna's parents, the many patriots of the civil rights movement, and the citizens of communities far and wide, large and small. Her surprising story renewed my awe in the interconnectedness of all of our lives and affirmed that the current championing of hope in our country is a hope deserving of all its fervor."—Kathleen Finneran, author of The Tender Land: A Family Love Story

"A beautifully written account."—Teresa Scollon, ForeWord

"With this new and nuanced memoir, Ana Maria Spagna shows us yet another facet of herself. In the field of universal human questions, "Who am I?" takes a close second to the simple yet elegant, "Why?" The author crosscuts through both in Test Ride on the Sunnyland Bus."—Ann Beman, Literary Review

"[Test Ride on the Sunnyland Bus is] a personal journey, filled with revelation after revelation about humanity and family and self."—Joe Ponepinto, Raven Chronicles

"Test Ride is the story of Ana Maria's voyage of personal discovery, as much autobiography as biography, as she comes to terms with memories and family relationships."—Paul T. Murray, MultiCultural Review
Bison Books, 9780803217126, 286pp.
Publication Date: April 1, 2010
About the Author
Ana Maria Spagna is the author of Now Go Home: Wilderness, Belonging, and the Crosscut Saw, which was named a Best Book of 2004 by the Seattle Times. Her work has appeared widely in publications such as Orion, Utne Reader, and North American Review. She lives and writes in Stehekin, Washington.