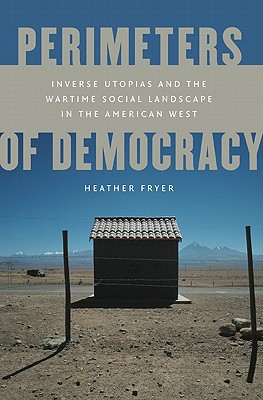 Perimeters of Democracy (Hardcover)
Inverse Utopias and the Wartime Social Landscape in the American West
University of Nebraska Press, 9780803220331, 432pp.
Publication Date: June 1, 2010
Other Editions of This Title:
Other (6/30/2014)
* Individual store prices may vary.
Description
During times of conflict, Americans have worried that enemies within would twist freedom of speech into a weapon of propaganda and use freedom of assembly to unleash violent internal chaos. As a result, the government isolated and confined within federal communities groups that they deemed dangerous. Within these so-called cultural structures of realistic democracy, the government awkwardly attempted to protect citizens while curbing their rights and freedoms.
It is no accident that the government's enclosed worlds were most numerous in the American West, where abundant open space has long symbolized the glory of American freedom and progress. Heather Fryer looks at four of these inverse utopias in the American West: the Klamath Indian reservation; the community of nuclear scientists in Los Alamos; the Japanese internment camp in Topaz, Utah; and the wartime company town of Vanport, Oregon. Each community stripped freedoms from Americans based on beliefs about the treacherous tendencies of minorities, workers, and radicals. Although the differences of experience among the four populations were considerable, they shared the marginalization, repression, displacement, and disillusionment with the federal government that flourished within the confined spaces of America's inverse utopias. Nor was their experience theirs alone; it is instead part of a patterned, national, wartime dynamic that makes enemies of citizens while fighting to extend American freedom to every corner of the globe.
About the Author
Heather Fryer is an associate professor of history at Creighton University. She is the editor of Cowboys, Indians, and the Big Picture.
Praise For Perimeters of Democracy: Inverse Utopias and the Wartime Social Landscape in the American West…
"Based on a wide variety of sources, this book warrants attention among all categories of adult readers."—M.L. Tate, Choice
— M.L. Tate
"Perimeters of Democracy is a must read for scholars and students of any single community addressed or of the twentieth-century West more generally."—Oregon Historical Quarterly
— Oregon Historical Quarterly
"[Perimeters of Democracy is] a thorough and clearly argued history of some of the twentieth-century West's most deeply lived contradictions."—Audrey Goodman, Western American Literature
— Audrey Goodman
"Heather Fryer's Perimeter of Democracy is a bold and ambitious study."—David Wrobel, Montana, The Magazine of Western History
— David Wrobel