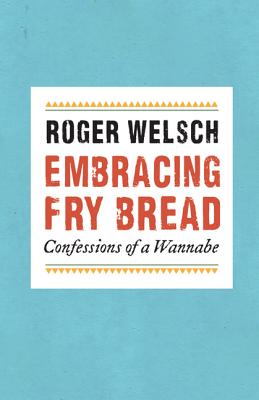 Embracing Fry Bread: Confessions of a Wannabe (Paperback)
Confessions of a Wannabe
Bison Books, 9780803225329, 256pp.
Publication Date: December 1, 2012
Description
When he was out playing Indian, enacting Hollywood-inspired scenarios, it never occurred to the child Roger Welsch that the little girl sitting next to him in school was Indian. A lifetime of learning later, Welsch's enthusiasm is undimmed, if somewhat more enlightened. In Embracing Fry Bread Welsch tells the story of his lifelong relationship with Native American culture, which, beginning in earnest with the study of linguistic practices of the Omaha tribe during a college anthropology course, resulted in his becoming an adopted member and kin of both the Omaha and the Pawnee tribes. With requisite humility and a healthy dose of humor, Welsch describes his long pilgrimage through Native life, from lessons in the vagaries of "Indian time" and the difficulties of reservation life, to the joy of being allowed to participate in special ceremonies and developing a deep and lasting love of fry bread. Navigating another culture is a complicated task, and Welsch shares his mistakes and successes with engaging candor. Through his serendipitous wanderings, he finds that the more he learns about Native culture the more he learns about himself--and about a way of life whose allure offers true insight into indigenous America.

About the Author
Roger Welsch is an adjunct professor of anthropology at the University of Nebraska-Lincoln and the author of more than forty books, including Touching the Fire: Buffalo Dancers, the Sky Bundle, and Other Tales and My Nebraska, both available in Bison Books editions.
Praise For Embracing Fry Bread: Confessions of a Wannabe…
"If it can be said of anyone who is not an Indian (Native American, American Indian) that he or she has the 'soul of an Indian,' it has to be said of Roger Welsch. He offers the one thing that diverse groups of people, indeed the world, need to get along: understanding."—Joseph Marshall III, author of The Lakota Way: Stories and Lessons for Learning 


-Joseph Marshall III

"We can all enjoy the wit and humor of my long-time friend and Native rights colleague Roger Welsch. He presents an important message, as we strive to live together as one great people joined together on the same land by a common heritage."—Walter R. Echo-Hawk, author of In the Courts of the Conqueror: The Ten Worst Indian Law Cases Ever Decided
-Walter R. Echo-Hawk

"A self-described wannabe, Roger Welsch has over many years absorbed a deep knowledge and appreciation of the Indian tribes of the Northern Plains. His writing, sincere and often humorous, reveals a personality that many Indian people and even one tribal council have come to trust, love, and adopt into their circles."—Charles Trimble, Oglala Lakota journalist and author
-Charles Trimble

"Once again my Heyoke friend, Roger Welsch, has captured the true essence of being a 'wannabe,' not afraid to take risks, staying close to the fire but not too close. Like our people, he understands what it means to live in two worlds. He does so with humor, gusto, and fearless dignity."—Judi M. gaiashkibos (Ponca), executive director of the Nebraska Commission on Indian Affairs
-Judi M. gaiashkibos

"Embracing Fry Bread is quintessential Welsch. Roger hooks the readers with a title about a tantalizing culinary delight, then reels 'em in to the deeper heart of the book. This is a watchful, thoughtful man's memoirs of how he has been drawn into three Indigenous families and communities through no particular volition of his own. This is the story for anyone who wakes up one morning and realizes he or she has somehow become something beyond what nature and nurture had originally provided . . . and is the better human for it. Welsch writes a compelling personal account that can resonate with us all. As Welsch would say, it is not so much about being a WANNAbe as a GOTTAbe."—Mark Awakuni-Swetland, author of Dance Lodges of the Omaha People
-Mark Awakuni-Swetland
Advertisement