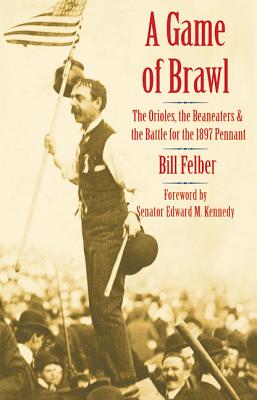 A Game of Brawl (Paperback)
The Orioles, the Beaneaters, and the Battle for the 1897 Pennant
University of Nebraska Press, 9780803226364, 320pp.
Publication Date: March 1, 2014
Other Editions of This Title:
Hardcover (9/1/2007)
* Individual store prices may vary.
Description
Not only was it probably the most cutthroat pennant race in baseball history, it was also a struggle to define how baseball would be played. A Game of Brawl re-creates the rowdy, season-long 1897 battle between the Baltimore Orioles and the Boston Beaneaters. The Orioles had acquired a reputation as the dirtiest team in baseball. Future Hall of Famers John McGraw, Wee Willie Keeler, and "Foxy" Ned Hanlon were proven winners—but their nasty tactics met with widespread disapproval among fans. So it was that their pennant race with the comparatively saintly Beaneaters took on a decidedly moralistic air.

Bill Felber brings to life the most intensely watched team sporting event in the country's history to that time. His book captures the drama of the final week, as the race came down to a three-game series. And finally, it conveys the madness of the third and decisive game, when thirty thousand fans literally knocked down the gates and walls of a facility designed to hold ten thousand to watch the Beaneaters grind out a win and bring down baseball's first and most notorious evil empire.

About the Author
Bill Felber recently retired as the executive editor of the Manhattan Mercury. He is the author of The Book on the Book: An Inquiry into Which Strategies in the Modern Game Actually Work.
Praise For A Game of Brawl: The Orioles, the Beaneaters, and the Battle for the 1897 Pennant…
"Felber . . . excels at demonstrating the dissimilarities between these two evenly matched opponents. . . . [He] gives a spirited retelling of the season, giving life to greedy owners, rabid fans, drunken ballplayers and terrorized umpires, all the while bringing to life an era of baseball when home runs were a rarity, players fielded with no gloves and starting pitchers threw almost 400 innings a season."—Publishers Weekly
— Publishers Weekly
"Bill Felber has woven a picturesque tale of how baseball was played more than 100 years ago in the rowdy days of the 1890s. The story, although concentrating on the 1897 pennant race between Baltimore and Boston, vividly describes the atmosphere of the game on and off the field, and in doing so creates a rollicking good tale to boot."—Pete Palmer, coeditor of ESPN Baseball Encyclopedia, 4th edition
— Pete Palmer
"This book is a hoot from start to the cliff-hanging conclusion."—John Linsenmeyer, Greenwich Time (CT)
— John Linsenmeyer
"A fine source of stories about the days when . . . Boston fans celebrated victories by tossing into the air beans that they had carried to the games in their pockets for that purpose, and when an umpire could be arrested twice in one season without losing his job."—Bill Littlefield, WBUR-FM Radio, NPR's "Only a Game"
— Bill Littlefield