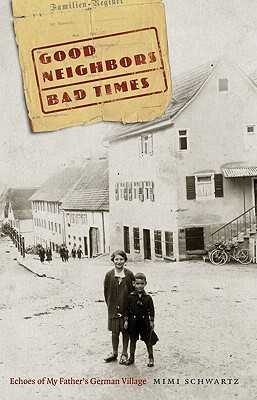 Good Neighbors, Bad Times
Echoes of My Father's German Village
Paperback

* Individual store prices may vary.
Description
Mimi Schwartz grew up on milkshakes and hamburgers—and her father's boyhood stories. She rarely took the stories seriously. What was a modern American teenager supposed to make of these accounts of a village in Germany where, according to her father, "before Hitler, everyone got along"? It was only many years later, when she heard a remarkable story of the Torah from that very village being rescued by Christians on Kristallnacht, that Schwartz began to sense what these stories might really mean. Thus began a twelve-year quest covering three continents as Schwartz sought answers in the historical records and among those who remembered that time. Welcomed into the homes of both the Jews who had fled the village fifty years earlier and the Christians who had remained, Schwartz heard countless stories about life in one small village before, during, and after Nazi times. Sometimes stories overlapped, sometimes one memory challenged another, but always they seemed to muddy the waters of easy judgment. How, this book asks, do neighbors maintain a modicum of decency in such times of political extremism when fear and hatred strain the bonds of loyalty and neighborly compassion? How do we negotiate evil and remain humane when, as in the Nazi years, hate rules?
Praise For Good Neighbors, Bad Times: Echoes of My Father's German Village…
"A thoughtful, elegantly written memoir. . . . Through the author's voice, we hear the voices of a dwindling group of survivors—Jewish and Christian—whose perspective and remembering are as complex as they are insightful. This is a Holocaust memoir that is as much about then, as it is about now. Good Neighbors, Bad Times will make you smile, but it will also make you think. I highly recommend it."—Carol Rittner, co-author of The Courage to Care: Rescuers of Jews During the Holocaust

"Mimi Schwartz is a very keen observer, a splendidly witty writer, and a committed skeptic. Her new book, Good Neighbors, Bad Times, which explores the past of the small Black Forest village where her father was born, reads like an idiosyncratic detective story. . . . The vivid portraits which Mimi Schwartz sketches of Benheim refugees transplanted to America and Israel and of Germans who stayed and still live in Benheim are brilliantly incisive, surprisingly amusing, and usually, ultimately equivocal."—Edith Milton, author of The Tiger in the Attic

"Schwartz's book is an original contribution to the crowded field of Holocaust literature. Its reach combines the full arsenal of creative nonfiction: personal experience, family history, interviews, observation, philosophy, literature. Good Neighbors, Bad Times speaks to issues regarding the process of memory, the balancing of experiential and archival information, and the ownership of history's narrative."—Floyd Skloot, author of In the Shadow of Memory and A World of Light

"This is a personal and introspective book distinguished by its intelligence and its quiet clarity."—Max Apple, author of Roommates and I Love Gootie

"Mimi Schwartz has written an engaging account of her journey into her family's German-Jewish past. But Good Neighbors, Bad Times is much more than that: it is also a shrewd and insightful meditation on how our collective histories are discovered, constructed, revised, and debated—and how, finally, we learn to live with them."—Michael Walzer, author of Just and Unjust Wars

"Mimi Schwartz has found a fresh way to write about the unspeakable loss of the Holocaust: her humor, warm humanity and honesty, her appetite for contradiction and irony, sparkle on every page. The result is both deeply affecting and full of surprises."—Phillip Lopate, author of Getting Personal and The Art of the Personal Essay

"When Mimi Schwartz set out with a tape recorder to discover something about the life of her father in a small German town. . . . She did not know what she would find. This is the story of her quest in vivid portraits of Jewish emigrants and German residents right up to a revealing climax."—Raul Hilberg, author of The Destruction of the European Jews

"Good Neighbors, Bad Times is utterly riveting. It reintroduces, one story at a time, the kind of human complexity to our understanding of 'the perpetrators' so often lacking when we confront the devastation of the Holocaust. Mimi Schwartz bravely takes us along on her journey to re-create the ethos of a particular village, its  surprises, uncertainties, contradictions, provocations, and shares with us her humbling conviction that—no matter how inhuman the orders that come from above—there is no  such thing as a monolith when it comes to the reactions of individuals. Her book casts a ray of light into the darkness, which was not so absolute as it has often seemed."—Rosellen Brown, author of Before and After and Half a Heart

"Schwartz puts at center stage not a sweeping generalization about 'The Germans' but its opposite, an open question that invites the reader to examine his or her moral conduct toward 'neighbors,' and to imagine oneself in the shoes of the various speakers and voices in the book. Schwartz raises large questions, too, about the nature of history, asking whether the flavor and essential, complex truth is lost when the stories of first-hand sources are squeezed into an historical narrative devoid of subjectivity."—Sonya Huber, author of Opa Nobody

"In this book history is brought to life in a stunning way. By tapping individual and collective memories, the crisis of a German village is illuminated in recall and ritual as century-old patterns of coexistence between Christians and Jews are torn asunder under the impact of Nazism and War. By interweaving the personal and the political, the institutional sinews of the village fabric are laid bare along with the historic forces eroding them. Beautifully written, the diverse reactions of ordinary villagers reveal both the fragility and the strengths of the bonds that held them together, broke down, and were emotionally reclaimed in the struggle to comprehend their fate."—Suzanne Keller, author of Community: Pursuing the Dream, Living the Reality

"Whether or not one can, or should, move on from the Holocaust is central to Schwartz's many important themes. . . . Good Neighbors, Bad Times gives evidence of the need to connect, to honor, to fight against the obliteration of lives with which one has some unchosen connection. . . . Schwartz's account is a suggestive hybrid: on one hand a most personal search for her roots, and on the other an invitation to see a broader ongoing history of mass movements and the toll such emotional immersion and surrender of individual choice produces at the time and in subsequent generations."—John C. Hawley, America

"Schwartz's book is worth reading from the point of view of its new perspectives on the Holocaust and on life in Germany in the Nazi era, its information on the lives of German Jews who emigrated to the US and Israel in the 1930s, and its links to contemporary events in the world."—Elaine Martin, American Book Review

"[A] beautiful memoir of introspection and contrasts."—Harriet P. Gross, Dallas Morning News

"Good Neighbors, Bad Times is recommended for anyone who wants to learn more about Jewish/Christian relationships during the World War II era. It would also make a wonderful text for a college course on the topic."—Spiritual Woman 

"To learn anything one must imagine the times. Which is what fiction and books of creative nonfiction like this one attempt to do. And why they so often get to the truth of the story as a conventional piece of nonfiction never could."—JBooks.com: The Online Jewish book Community

"Eloquent. . . . Schwartz's tone is gentle, her prose brilliantly clear and her insights keen."—Kirkus Reviews

"Schwartz's excellent presentation defies categorization. It has some elements of journalism, autobiography, history, reporting, feature writing, and literature. All these components are creatively combined to result in an eminently readable product that grips the reader's attention. Schwartz has augmented our limited capacity to comprehend the Holocaust, which is ultimately an incomprehensible phenomenon."—Morton I. Teicher, National Jewish Post & Opinion

"[Mimi Schwartz] has written a brilliant book. . . . It is a book that should be read by all."—David Patterson, Shofar

"Good Neighbors, Bad Times is recommended for anyone who wants to learn more about Jewish/Christian relationships during the World War II era. It would also make a wonderful text for a college course on the topic."—Spiritual Woman 

"Thoughtfully told. . . . With an open spirit, Schwartz looks at individual struggles and choices in order to better understand the nature of heroism and loyalty, the meaning of good and evil, writ large and small."—Sandee Brawarsky, The Jewish Week

"A fascinating picture, atypical of so much written on the subject. Blessed with good antennae and a skeptical mind, Ms. Schwartz is not an innocent abroad. Never gullible or credulous, but open to the evidence of her own eyes and ears, she is an ideal guide to her father's lost world, which for so long she resisted. . . . It is a measure of her nuanced approach and refusal to settle for pat, simplistic answers that her book finds and genuinely values a rare point of light in that darkest of times without ever exaggerating its overall significance."—Martin Rubin, The Washington Times

"The book of moments and little stories surprises and horrifies, soothes and disturbs. But it is, above all, a beautiful read by a charming writer. And it reminds us that behind every story is the flawed human being who told it."—Aviya Kushner, Wilson Quarterly
 

"[Schwartz's] journey, the people she vividly portrays, and the stories she reveals never fail to evoke what is best and binding in our humanity. Her father would be smiling, I think, having read this book. He would cherish the fact that what he knew has been told."—Sheila Bender, Writing it Real

http://nebraskapress.typepad.com/university_of_nebraska_pr/2014/01/from-the-desk-of-mimi-schwartz-what-my-readers-have-taught-me.html
Bison Books, 9780803226401, 288pp.
Publication Date: December 1, 2009
About the Author
Mimi Schwartz is a professor emerita of writing at Richard Stockton College. She is the author of  Thoughts from a Queen-Sized Bed, available in a Bison Books edition, and Writing True, the Art and Craft of Creative Nonfiction (co-authored with Sondra Perl). Her essays have been widely anthologized and six of them have been Notables in Best American Essays.
or
Not Currently Available for Direct Purchase