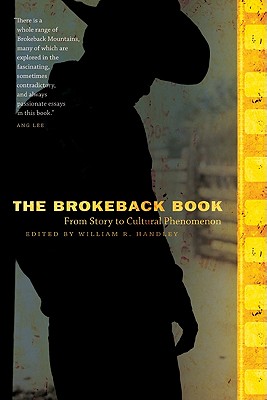 The Brokeback Book: From Story to Cultural Phenomenon (Paperback)
From Story to Cultural Phenomenon
Bison Books, 9780803226647, 386pp.
Publication Date: May 1, 2011
Description
An American Western made by a Taiwanese director and filmed in Canada, Brokeback Mountain was a global cultural phenomenon even before it became the highest grossing gay-themed drama in film history. Few films have inspired as much passion and debate, or produced as many contradictory responses, from online homage to late-night parody. In this wide-ranging and incisive collection, writers, journalists, scholars, and ordinary viewers explore the film and Annie Proulx's original story as well as their ongoing cultural and political significance. The contributors situate Brokeback Mountain in relation to gay civil rights, the cinematic and literary Western, the Chinese value of forbearance, male melodrama, and urban and rural working lives across generations and genders. The Brokeback Book builds on earlier debates by novelist David Leavitt, critic Daniel Mendelsohn, producer James Schamus, and film reviewer Kenneth Turan with new and noteworthy interpretations of the Brokeback phenomenon, the film, and its legacy. Also appearing in print for the first time is Michael Silverblatt's interview with Annie Proulx about the story she wrote and the film it became.

About the Author
William R. Handley is an associate professor of English at the University of Southern California. He is the author of Marriage, Violence, and Nation in the American Literary West and the coeditor, with Nathaniel Lewis, of True West: Authenticity and the American West, available in a Bison Books edition. Contributors: Martin Aguilera, Calvin Bedient, Colin Carman, Alan Dale, Jon Davies, Chris Freeman, Judith Halberstam, William R. Handley, Gregory Hinton, Andrew Holleran, Alex Hunt, David Leavitt, Mun-Hou Lo, Susan McCabe, Daniel Mendelsohn, James Morrison, Vanessa Osborne, Annie Proulx, James Schamus, Michael Silverblatt, Adam Sonstegard, Noah Tsika, Kenneth Turan, Patricia Nell Warren, and David Weiss.
Praise For The Brokeback Book: From Story to Cultural Phenomenon…
"For the Brokeback enthusiast, the book offers much to savor, as the pieces are uniformly passionate and chockfull of contextualizing information and analysis ."—Kirkus Reviews

"This volume will serve as a primary research tool for not those interested in the film or its broader context."—G. R. Butters Jr., Choice
-G. R. Butters Jr.

"The fact that the Brokeback Book evoked so many questions about same-sex representations on-screen and their effects on viewers demonstrates the worth of this volume, whose essays offer considerable merits. The debates are clearly destined to continue for some time to come."—Matthew Hays, Gay & Lesbian Review
-Matthew Hays
Advertisement