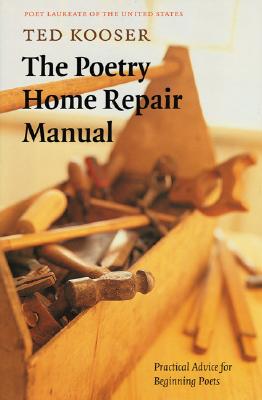 The Poetry Home Repair Manual (Hardcover)
Practical Advice for Beginning Poets
University of Nebraska Press, 9780803227699, 166pp.
Publication Date: February 1, 2005
Other Editions of This Title:
Paperback (3/1/2007)
* Individual store prices may vary.
Description
Ted Kooser has been writing and publishing poetry for more than forty years. In the pages of The Poetry Home Repair Manual, Kooser brings those decades of experience to bear. Here are tools and insights, the instructions (and warnings against instructions) that poets—aspiring or practicing—can use to hone their craft, perhaps into art. Using examples from his own rich literary oeuvre and from the work of a number of successful contemporary poets, the author schools us in the critical relationship between poet and reader, which is fundamental to what Kooser believes is poetry's ultimate purpose: to reach other people and touch their hearts.
Much more than a guidebook to writing and revising poems, this manual has all the comforts and merits of a long and enlightening conversation with a wise and patient old friend—a friend who is willing to share everything he's learned about the art he's spent a lifetime learning to execute so well.
About the Author
Ted Kooser, former Poet Laureate Consultant in Poetry to the Library of Congress (2004-2006), is a visiting professor in the English department of the University of Nebraska–Lincoln and a retired insurance executive. He is the author of ten collections of poetry, most recently the Pulitzer Prize-winning Delights & Shadows. His prose book, Local Wonders: Seasons in the Bohemian Alps, won numerous awards, including the Barnes and Noble Discover Award for nonfiction finalist, and is available in a Bison Books edition.
Praise For The Poetry Home Repair Manual: Practical Advice for Beginning Poets…
"Ted Kooser could be mistaken for an average guy except for one thing: He writes poetry. That activity sets him apart from most of his neighbors, since they, like most Americans, have very little time for the stuff. A resident of Nebraska and the first U.S. poet laureate from the Great Plains, Mr. Kooser takes a broadly inclusive approach to promoting poetry; even so, he harbors no illusions about its becoming the national pastime anytime soon. Mr. Kooser captures this outsider-status neatly in The Poetry Home Repair Manual, his guide to aspiring poets and aspiring readers of verse. . . . [P]oetry is a tough sell these days. . . . But that only makes a smart and readable poetry guide all the more welcome, and needed."—David Yezzi, The Wall Street Journal
— David Yezzi
"With The Poetry Home Repair Manual, he turns to teaching us what poetry is about, Kooser-style. Much of it appeals. His attitude that 'poetry is communication' is refreshing in an era when so many poets seem to be babbling to themselves, giving us pages ripped out of their narcissistic diaries. . . . As might be expected, Kooser's advice is practical, down-home. . . . Kooser is a fine free-verser, and the biases of his book show it."—Cynthia Haven, San Francisco Chronicle
— Cynthia Haven
"When Nebraska's Ted Kooser was named poet laureate for the Library of Congress last fall, certain quarters of the literary establishment responded with a resounding, Huh? Poets on both coasts scratched their heads, admitting they had never heard of Kooser. It is to be hoped they now have. With Kooser, the middle of the country and Nebraska have triumphed over the self-concerned coasts. Many of his poems involve closely observed Midwestern scenes, their artistry a way of surviving and even enjoying the world. Though Kooser eschews the egotism of many contemporary poets, he is as distinctive a voice as any now at work, a master of metaphor and the short poem. . . . Kooser's book is quietly witty and iconoclastic, with valuable advice. . . . He presents a whole stance toward writing in the context of living one's life. The Poetry Home Repair Manual is brief, lucid, and often remarkably wise."—David Mason, The Weekly Standard
— David Mason
"Comings and goings, what is there and what isn't, and the possibilities drawn from personal exploration shape the landscapes in Kooser's poetry. This is not an extended, complex, or experimental kind of writing, but a poetry that rings true, allowing the human sound of being to exist on the page. Its brevity is a launching pad for a simplicity that contains mortal lessons whose language changes the reader. This sense of transformation could be the theme of The Poetry Home Repair Manual. It is not a how-to book or a grand manifesto about poetic tradition. This lively and trim book is Kooser's gift to readers and writers of poetry. . . . The value of this book lies in the way Kooser encourages writers to be real about their expectations, their work, and the fact that the world is not waiting for their poems. . . . Kooser is a poet whose triumphs and tragedies become our own, not to shed their weight upon us but to allow us to revel in the process by which the imagination and the mysteries of poetry make our humanity everyone's horizon."—Bloomsbury Review
— Bloomsbury Review
"The work of Kooser, America's new poet laureate, will be receiving more attention now, attention that is amply deserved"—Booklist
— Booklist
"Get your hands on this book. Ask your librarian for it—or better yet buy it, along with a highlighter. You're going to need the latter because this book is brimming with good counsel."—John Eberhart, Kansas City Star
— John Eberhart
or
Not Currently Available for Direct Purchase