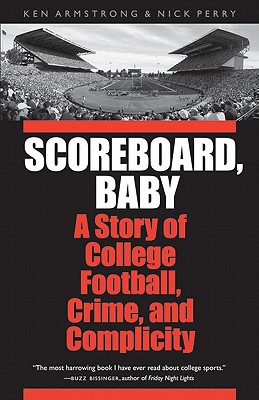 Scoreboard, Baby (Paperback)
A Story of College Football, Crime, and Complicity
Bison Books, 9780803228108, 400pp.
Publication Date: September 1, 2010
Other Editions of This Title:
Hardcover (9/1/2010)
* Individual store prices may vary.
Description
The adjectives associated with the University of Washington's 2000 football season—mystical, magical, miraculous—changed when Ken Armstrong and Nick Perry's four-part exposé of the 2000 Huskies hit the newspaper stands: "explosive . . . chilling" (Sports Illustrated), "blistering" (Baltimore Sun), "shocking . . . appalling" (Tacoma News Tribune), "astounding" (ESPN), "jaw-dropping" (Orlando Sentinel).
Now, in Scoreboard, Baby, Armstrong and Perry go behind the scenes of the Huskies' Cinderella story to reveal a timeless morality tale about the price of obsession, the creep of fanaticism, and the ways in which a community can lose even when its team wins. The authors unearth the true story from firsthand interviews and thousands of pages of documents: the forensic report on a bloody fingerprint; the notes of a detective investigating allegations of rape; confidential memoranda of prosecutors; and the criminal records of the dozen-plus players arrested that year with scant mention in the newspapers and minimal consequences in the courts. The statement of a judge, sentencing one player to thirty days in jail, says it all: "to be served after football season."
About the Author
Ken Armstrong is a reporter for the Seattle Times, as was Nick Perry from 2002 until 2011. Perry is now a correspondent for the Associated Press. Their investigative work on the 2000 Huskies won two of journalism's highest honors: the George Polk Award and the Michael Kelly Award, recognizing "the fearless pursuit and expression of truth." In 2010 Armstrong and Perry shared in the Pulitzer Prize for breaking news reporting, which was awarded to the staff of the Seattle Times for its coverage of the shooting deaths of four police officers. 
Armstrong won the 2016 Pulitzer Prize in explanatory reporting and is a three-time winner of the Investigative Reporters and Editors Award. He previously worked at the Chicago Tribune, where he co-wrote six series on criminal-justice issues, including an investigation of the death penalty that helped prompt the state's governor to suspend executions and eventually to empty Death Row. In 2009 he received the prestigious John Chancellor Award from Columbia University for lifetime achievement.  

Perry has won national journalism awards in both New Zealand, his homeland, and the United States, where he has specialized in covering higher education. He was named a Knight-Wallace Fellow at the University of Michigan for the 2010–11 academic year.
 
Praise For Scoreboard, Baby: A Story of College Football, Crime, and Complicity…
"Ken Armstrong and Nick Perry have written a classic. . . . Through extensive review of public records and interviews, the authors detail the complicity of Seattle community members, law enforcement officials, coaches, players, members of the legal profession, local media, and the university in this tale of "twisted values.""—Dick Stull, Arete
— Dick Stull
"While the focus is specifically on the University of Washington program, this story carries importance and relevance to fans far beyond Seattle. Investigative journalism at its most revealing."—Alan Moores, Booklist Online
— Alan Moores
"Despite overwhelming evidence to the contrary, some of America's top universities still perpetuate the myth of the "student-athlete." Armstrong and Perry sound the death knell of that hoary fable by exposing the win-at-all-costs deprivation that thrived at UW under golden-boy coach Rick Neuheisel."—Kirkus
— Kirkus
"However familiar the underlying conflict might seem, there's an added layer of tension and tragedy to the narrative that makes Scoreboard, Baby a particularly distressing tale—and one that should be required reading for anyone linked to university life."—Libby Sander, Chronicle of Higher Education
— Libby Sander
"A remarkable book."—Steve Weinberg, Seattle Times
— Steve Weinberg