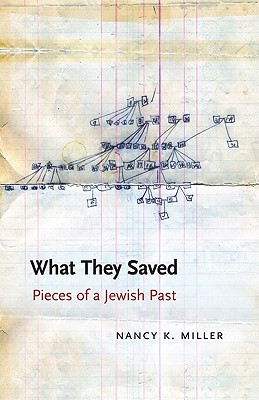 What They Saved
Pieces of a Jewish Past
Hardcover

* Individual store prices may vary.
Other Editions of This Title:
Paperback (1/1/2013)
Description
Winner of the 2012 Jewish Journal Book Prize
After her father's death, Nancy K. Miller discovered a minuscule family archive: a handful of photographs, an unexplained land deed, a postcard from Argentina, unidentified locks of hair. These items had been passed down again and again, but what did they mean? Miller follows their traces from one distant relative to another, across the country, and across an ocean. Her story, unlike the many family memoirs focused on the Holocaust, takes us back earlier in history to the world of pogroms and mass emigrations at the turn of the twentieth century.
Searching for roots as a middle-aged orphan and an assimilated Jewish New Yorker, Miller finds herself asking unexpected questions: Why do I know so little about my family? How can I understand myself when I don't know my past? The answers lead her to a carpenter in the Ukraine, a stationery peddler on the Lower East Side, and a gangster hanger-on in the Bronx. As a third-generation descendant of Eastern European Jews, Miller learns that the hidden lives of her ancestors reveal as much about the present as they do about the past. In the end, an odyssey to uncover the origins of her lost family becomes a memoir of renewal.
Praise For What They Saved: Pieces of a Jewish Past…
"[What They Saved is] an unusual, intellectual perspective on an often-told story."—Kirkus Reviews

"[Miller] writes thoughtfully about her efforts to piece together a family's story of dislocation, success, and broken links, and of how, in the process, Miller reconnected with Jewish history and traditions."—Publishers Weekly

"Miller's suspension of the expectation of closure—her acceptance of the condition of remembering and of writing as forever incomplete—also draws her memoir deeply into the emotional experience of change that shaped modernity for Jews all over the world. And it confirms the importance of personal narrative, perhaps modernity's most recognizable voice, in framing and accepting the losses and the uncertainties of that experience."—Joanne Jacobson, Jewish Daily Forward

"What They Saved can be approached as an illuminating and instructive example of how to conduct a genealogical investigation. But it is also a rich and accomplished family chronicle, full of fascinating incidents and turbulent emotions. Above all, it is a searing work of self-exploration, artful and eloquent in the telling but heartbreaking in its candor."—Jonathan Kirsch, JewishJournal.com

"This marvelous memoir pinpoints the elusive phenomenon whereby memories get through to our consciousness and how they ultimately influence our lives. Capturing moments of transformation is what happens over and over in an adept memoir like What They Saved."—Judy Bolton-Fasman, Jerusalem Post
University of Nebraska Press, 9780803230019, 248pp.
Publication Date: September 1, 2011
About the Author
Nancy K. Miller is distinguished professor of English and comparative literature at the Graduate Center of the City University of New York. She is the author or editor of more than a dozen books, most recently Breathless: An American Girl in Paris, But Enough About Me: Why We Read Other People's Lives, and Bequest and Betrayal: Memoirs of a Parent's Death.