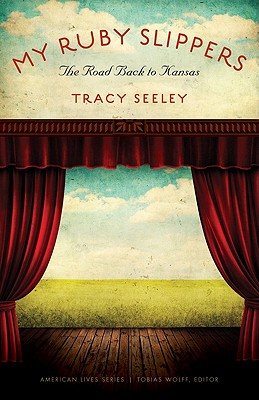 My Ruby Slippers (Paperback)
The Road Back to Kansas (American Lives )
Bison Books, 9780803230101, 208pp.
Publication Date: March 1, 2011
* Individual store prices may vary.
Description
Sure, there's no place like home—but what if you can't really pinpoint where home is? By the time she was nine, Tracy Seeley had lived in seven towns and thirteen different houses. Her father's dreams of movie stardom, stoked by a series of affairs, kept the family on edge, and on the move, until he up and left. Thirty years later, settled in what seems like a charmed life in San Francisco, a diagnosis of cancer and the betrayal of a lover shake Seeley to her roots—roots she is suddenly determined to search out. My Ruby Slippers tells the story of that search, the tale of a woman with an impassioned if vague sense of mission: to find the meaning of home.  


Seeley finds herself in a Kansas that defies memory, a place far more complex and elusive than the sum of its cultural myths. On back roads and in her many back years, Seeley also finds unexpected forgiveness for her errant father, and, in the face of mortality, a sense of what it means to be rooted in place, to dwell deeply in the only life we have.

About the Author
Tracy Seeley is a professor of English at the University of San Francisco.
Praise For My Ruby Slippers: The Road Back to Kansas (American Lives )…
"Under Tracy Seeley's cool, clear gaze, the fractured landscape of America's rootlessness is seen whole again. She reminds us that place is both on the horizon and within our memories. . . . My Ruby Slippers is a complete pleasure to read."—Lewis Buzbee, author of The Yellow-Lighted Bookshop
— Lewis Buzbee
"Ad astra per aspera. 'To the stars through difficulty' is the Kansas state motto. Tracy Seeley's My Ruby Slippers takes us on a knockabout journey to Dorothy territory, but when she awakens in sunflowers, she's not home. An honest inquiry into who we are wherever we are, and a brave meditation on mortality. A wonderful book."—Terese Svoboda, author of Black Glasses Like Clark Kent
— Terese Svoboda
"In this smart meditation on place, Seeley gives to Kansas the time she never afforded it in her youth."—Kirkus
— Kikus
"Seeley . . . writes evocatively of Kansas, from the "long horizons" of the prairies to the "white billows swelling" in its western sky.""—Georgia Rowe, San Jose Mercury News
— Georgia Rowe
"Engrossing and hard to put down, this autobiographical account of an odyssey will resonate with many who face their own muddied waters in returning to a home that is only vaguely defined, making this a pick for any general-interest lending library."—Midwest Book Review
— Midwest Book Review
"There is always the threat of a returning tornado, the specter of cancer, which may not carry Dorothy off to Oz this time. In Seeley's case, her ruby slippers take her home and teach her to cherish life there, to be open emotionally and spiritually, and how to belong."—Katelyn Hansell, Bid Muddy
— Katelyn Hansell