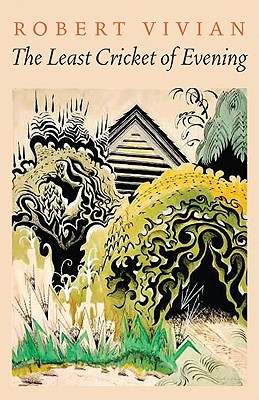 The Least Cricket of Evening
Paperback

* Individual store prices may vary.
Description
In the tradition of the meditative essay, the writing of Robert Vivian begins with a mundane moment and, through the delicate workings of curiosity, contemplation, and inspiration, reveals unsuspected meaning.
In his second collection of essays Vivian finds his occasions in midwestern towns and European cities. He looks for—and sometimes stumbles upon—the spiritual significance of circumstances and places and those who inhabit them, from the Jewish dead in a long-neglected cemetery in Poland to a dog slaughtered on a highway fronting the Black Sea to gunshots ringing out in rural Michigan. Again and again Vivian probes what such phenomena suggest about the times we live in—and what they share with every time that ever was.
Praise For The Least Cricket of Evening…
"Robert Vivian is a rare gift to readers—a writer whose natural subject is the soul. In his essays, whether his setting is Turkey, Hungary, or the hallway of his Michigan home, Vivian invokes and portrays the rich and startling inner realms of experience of which he is both in trembling awe and utterly unafraid."—Lawrence Sutin, author of
When to Go into the Water: A Novel
"Robert Vivian is one of the finest, most lyrical essayists of his time, giving voice to an internal life fully engaged with a sensuous external world. Vivian writes with illuminating and potent powers about the startling and shimmering wonder all around us. Whether his subject is eating at a Big Boy in Alma, Michigan, or clearing weeds from a Jewish cemetery in Poland, Vivian's prose brings us inside moments of surprising beauty, sadness, heartbreak, love, tenderness, longing, and, most important, hope."—Sue William Silverman, author of
Fearless Confessions: A Writer's Guide to Memoir
"Beautiful essays to read and savor one at a time."—
Kirkus
"Vivian's essays are introspective little gems that celebrate and elevate the commonplace. . . . From Michigan to Nebraska to Eastern Europe, an eclectic group of settings provides vivid context for this string of extraordinarily evocative writings. Readers who love the imaginative leaps the mind can make will take pleasure in this unique collection."—Margaret Flanagan,
Booklist
"With a poet's eye and ear, Vivian elevates the everyday to the universal in a contemplative voice like "the least cricket of evening under the porch of a clapboard house, chirping out its one note of everlasting wisdom.""—Bruce Jacobs, founding partner, Watermark Books & Cafe, Wichita, Kans.

"These essays contain some of the finest writing I have ever read. We readers are big mammals. We lumber through life as best we can, leaving so much in our wake unnoticed. Robert Vivian makes up for this shortcoming. He's got something extra going on, some reflexive seventh sense, which might be called the ability to make sense of the world. Reading these essays, you grow roots, gain dimension; your universe expands."—Susan Salter Reynolds, Los Angeles Review of Books
Bison Books, 9780803234314, 208pp.
Publication Date: November 1, 2011
About the Author
Robert Vivian is a professor of English and creative writing at Alma College in Michigan and a core faculty member in the low-residency MFA program at the Vermont College of Fine Arts. His stories, poems, and essays have appeared in numerous publications, and his plays have been produced in New York City. He is the author of Cold Snap as Yearning and the Tall Grass Trilogy, which includes The Mover of Bones, Lamb Bright Saviors, and Another Burning Kingdom, all available from the University of Nebraska Press.