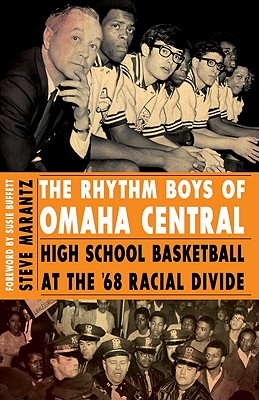 The Rhythm Boys of Omaha Central (Paperback)
High School Basketball at the '68 Racial Divide
Bison Books, 9780803234345, 264pp.
Publication Date: March 1, 2011
* Individual store prices may vary.
Description
In the spring of 1968, the Omaha Central High School basketball team made history with its first all-black starting lineup. Their nickname, the Rhythm Boys, captured who they were and what they did on the court. Led by star center Dwaine Dillard, the Rhythm Boys were a shoo-in to win the state championship. But something happened on their way to glory. 
In early March, segregationist George Wallace, in a third-party presidential bid, made a campaign stop in Omaha. By the time he left town, Dillard was in jail, his coach was caught between angry political factions, and the city teetered on the edge of racial violence. So began the Nebraska state high school basketball tournament the next day, caught in the vise of history. The Rhythm Boys of Omaha Central tells a true story about high school basketball, black awakening and rebellion, and innocence lost in a watershed year. The drama of civil rights in 1968 plays out in this riveting social history of sports, politics, race, and popular culture in the American heartland.
About the Author
Steve Marantz is an Omaha Central graduate and the author of Sorcery at Caesars: Sugar Ray's Marvelous Fight. A researcher for ESPN Content Development and E:60, and a coeditor of sportsmediaguide.com, he formerly covered sports, government, and politics for the Kansas City Star, the Boston Globe, and the Boston Herald. Susie Buffett, a 1971 graduate of Omaha Central, is the eldest of Warren Buffett's three children and runs the not-for-profit Sherwood Foundation.
Praise For The Rhythm Boys of Omaha Central: High School Basketball at the '68 Racial Divide…
"Four decades after George Wallace ignited a race riot in Omaha, Steve Marantz goes home to tell the story of a high school basketball team and its tragic star. A heartbreaking look inside the lives of white and black students fighting and falling in love as they grow up amid historic upheaval."—Ian Thomsen, columnist and feature writer for Sports Illustrated
— Ian Thomsen
"Marantz presents an ultimately compelling snapshot of an era—and a city—in the throes of social upheaval."—Kirkus
— Kirkus
"As a narrative of an American high school united by basketball and torn apart by the times, Marantz hits a nothing-but-net three-pointer."
—Karl Helicher, ForeWord
— Karl Helicher
"Through it all, this talented team reeled off a string of victories, in a way trying to will its way through the bubbling tensions and bring the community together as sports often do. Sometimes, life gets in the way."—Jerry Milani, The Ultimate Fan
— Jerry Milani
"Marantz . . . paints an entirely credible picture of the times, placing that infamous Omaha week in the historical context of an infamous year." —Michael Kelly, Omaha World-Herald
— Michael Kelly
"Marantz's narrative will touch readers far beyond Omaha."—Alan Moores, Booklist
— Alan Moores
"Despite the grim prognosis of the Rhythm Boys' community, Marantz presents a halcyon moment when these five extraordinary highschool athletes made anything seem possible at Omaha Central."—Amy Helene Forss, Great Plains Quarterly
— Amy Helene Forss