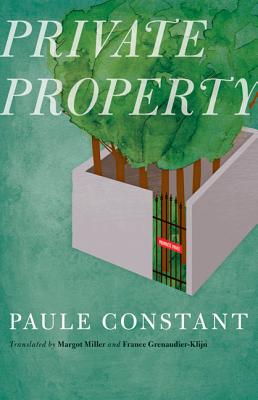 Private Property (European Women Writers)
Paperback

* Individual store prices may vary.
Description
When Tiffany Murano's parents, French expatriates in Africa, send her to a Catholic boarding school in France, her homeland feels nothing like home. In leaving colonial Africa, she loses the natural world, the people, and the animals she knows and loves. Behind the walls of the Convent of the Slaughterhouse Ladies, Tiffany, whom readers met in Paule Constant's award-winning first novel, Ouregano, leads a life cut off from the world, a life of immutable and ironically secular ritual. She finds solace only in visits to her grandmother's nearby farm, which becomes a sanctuary, paradisial in its isolation. But it is only a matter of time before this magical world is threatened.
Based loosely on Constant's own experiences, Private Property is at once deeply moving and intellectually exacting, an exploration of identity, home, and the tenuous relationship between mothers and daughters.
Praise For Private Property (European Women Writers)…
"This translation carefully preserves the style of Constant's breathtakingly beautiful prose. . . . By sensitively tracing for English readers the hauntingly painful and isolated world of Tiffany . . . Miller and Grenaudier-Klijn have made Private Property a must read."—Eileen M. Angelini, author of Strategies of "Writing the Self" in the French Modern Novel: C'est moi, je crois
— Eileen M. Angelini
"Small of scale does not mean small of consequence. That goes for the diminutive Tiffany as well as Private Property itself. Those moments that look so tiny, those school humiliations and emotional kicks at home, continue to shape us into adulthood. Constant's portrait of a little girl lost, someone who would be happier to camouflage herself in the furniture than to take the spotlight, will loom large in the mind."—Jessa Crispin, NPR Books
— Jessa Crispin
"Paule Constant writes beautiful prose. She does not waste words. She can make a small moment loom as large as it does in real experience. She is at her best in crafting memorable images with a single sentence. This is the kind of book best savored rather than gulped."—Ruth Huizenga Everhart, Englewood Review of Books
— Ruth Huizenga Everhart
"Immersed in the sights and sounds of its gardens, farm animals, local peasants, and provincial surroundings, readers will feel as if they've taken a heady trip to France."—Reba Leiding, Library Journal
— Reba Leiding
Bison Books, 9780803234802, 192pp.
Publication Date: October 1, 2011
About the Author
Paule Constant teaches French literature at the University of Aix-Marseilles and is the author of several novels, including Trading Secrets, winner of the Prix Goncourt; White Spirit; and The Governor's Daughter, all available in Bison Books editions. Margot Miller is the translator of Constant's Ouregano and the author of In Search of Shelter: Subjectivity and Spaces of Loss in the Fiction of Paule Constant. France Grenaudier-Klijn is an academic and literary translator and works as a senior lecturer in French at Massey University in New Zealand. Claudine Fisher is the director of Canadian studies at Portland State University.