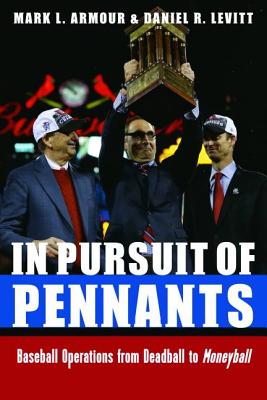 In Pursuit of Pennants (Hardcover)
Baseball Operations from Deadball to Moneyball
University of Nebraska Press, 9780803234970, 504pp.
Publication Date: April 1, 2015
Other Editions of This Title:
Paperback (4/1/2018)
* Individual store prices may vary.
Description
The 1936 Yankees, the 1963 Dodgers, the 1975 Reds, the 2010 Giants—why do some baseball teams win while others don't?

General managers and fans alike have pondered this most important of baseball questions. The Moneyball strategy is not the first example of how new ideas and innovative management have transformed the way teams are assembled. In Pursuit of Pennants examines and analyzes a number of compelling, winning baseball teams over the past hundred-plus years, focusing on their decision making and how they assembled their championship teams.

Whether through scouting, integration, instruction, expansion, free agency, or modernizing their management structure, each winning team and each era had its own version of Moneyball, where front office decisions often made the difference. Mark L. Armour and Daniel R. Levitt show how these teams succeeded and how they relied on talent both on the field and in the front office. While there is no recipe for guaranteed success in a competitive, ever-changing environment, these teams demonstrate how creatively thinking about one's circumstances can often lead to a competitive advantage.
About the Author
Daniel R. Levitt is the author of Ed Barrow (Nebraska, 2008) and coauthor, along with Mark Armour, of In Pursuit of Pennants: Baseball Operations from Deadball to Moneyball (Nebraska, 2015) and Paths to Glory: How Great Baseball Teams Got That Way (Potomac, 2004), winner of the Sporting News-SABR Baseball Research Award. He is also the author of numerous baseball articles and biographies.
Praise For In Pursuit of Pennants: Baseball Operations from Deadball to Moneyball…
"Read this book for its treasure trove of baseball history and because it is a damn good read."—G. Louis Heath, ARETE
— G. Louis Heath
"The book is exceptionally well-researched, -reasoned, and -argued, and also exceptionally well-written."—Rob Neyer, Just a bit Outside
— Rob Neyer
"In Pursuit of Pennants is by far the best treatment of the building of baseball teams. It belongs in easy reach on every baseball researcher's desk or bookshelf, and it's going to be there for a very long time."—Jan Finkel, Inside Game
— Jan Finkel
"Baseball fans across the board that dedicate the time to reading this book will enjoy it."—Gregg's Baseball Bookcase
— Gregg's Baseball Bookcase
"As revealed in the pages of In Pursuit of Pennants, an important aspect of understanding the success or failure of achieving the ultimate prize—a pennant as a National League, American League, or World Series champion—is a series of what the authors describe as "inflection points" in the history of the game and within individual organizations. Six of those critical inflection points evaluated in this book are the creation of general-manager roles, the establishment of farm systems, the integration of racial diversity, the advent of first-year-player drafts, the beginning of free agency, and the rise of baseball analytics. . . . A fascinating must read for all baseball enthusiasts."—Robert Whitaker, International Journal of Sport Communication
— Robert Whitaker
"Armour and Levitt have given the reader an inside look into the different cultures and challenges facing professional sports executives. Their management styles might differ, but the objective never changes: 'Be a consistent winner.'"—Pat Gillick
— Pat Gillick
"A rare combination of a must-have reference book and engaging storytelling by distinguished baseball historians Armour and Levitt."—Vince Gennaro, president of the Society for American Baseball Research and author of Diamond Dollars: The Economics of Winning in Baseball
 

— Vince Gennaro

"This is an interesting, well-written, and well-researched examination of a behind-the-scenes look at how certain winning clubs have been constructed by notable baseball executives and the philosophies employed."—Tal Smith, longtime baseball executive
— Tal Smith


"A great source of well-researched front office stories. . . . Armour and Levitt give an insider's look at the teams' efforts to innovate in this highly competitive industry."—Sig Mejdal, director of Decision Sciences for the Houston Astros
— Sig Mejdal
"If Moneyball is the tale of how a modern front office works, In Pursuit of Pennants is the prequel that ably sets the stage."—Jonah Keri, author of the bestselling The Extra 2% and Up, Up, and Away
— Jonah Keri