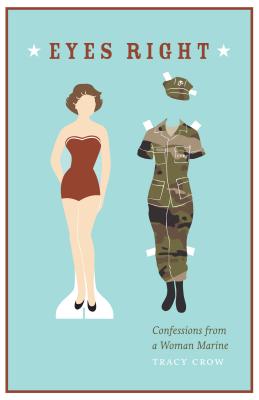 Eyes Right
Confessions from a Woman Marine
Hardcover

* Individual store prices may vary.
Description
Just out of high school in 1977, her personal life already a mess, Tracy Crow thought the Marines might straighten her out. And sure enough, in the Corps she became a respected public affairs officer and military journalist—one day covering tank maneuvers or beach assaults, the next interviewing the secretary of the navy. But success didn't come without a price.
When Crow pledged herself to God, Corps, and Country, women Marines were still a rarity, and gender inequality and harassment were rampant. Determined to prove she belonged, Crow always put her career first—even when, after two miscarriages and a stillborn child, her marriage to another Marine officer began to deteriorate. And when her affair with a prominent general was exposed—and both were threatened with court-martial—Crow was forced to re-evaluate her loyalty to the Marines, her career, and her family.

Eyes Right is Crow's story. A clear-eyed self-portrait of a troubled teen bootstrapping her way out of a world of alcoholism and domestic violence, it is also a rare inside look at the Marines from a woman's perspective. Her memoir, which includes two Pushcart Prize–nominated essays, evokes the challenges of being a woman and a Marine with immediacy and clarity, and in the process reveals how much Crow's generation did for today's military women, and at what cost.

Praise For Eyes Right: Confessions from a Woman Marine…
"A riveting memoir!"—Fred Leebron, author of Six Figures

"What's refreshing about this memoir is the absence of finger-pointing or assignment of blame. Crow tells her story in a clear voice devoid of self-indulgent apologia. With humility and clarity, she covers both the betrayals she encountered and the self-discovery she made in the aftermath of the maelstrom in whose center she found herself."—Lorrie Lykins, Tampa Bay Times

"Eyes Right provides fascinating details about Marine life, from training exercises in the high desert to the intricacies of relationships with superiors, subordinates and officers."—Shelf Awareness

"You might not know that the female-soldier memoir is a genre. Perhaps you don't know that because so few of these true accounts were written by professional writers like Tracy Crow, enlisted women who later became creative-writing professors."—Village Voice

"Crow's is an engrossing story, and her impeccable storytelling skills bring her battles and triumphs—in the military and at home—vividly to life."—Publishers Weekly

"This book will be of interest to military and Marine Corp historians as well as feminists and female Marines and soldiers."—Therese Nielson, Library Journal
University of Nebraska Press, 9780803235045, 224pp.
Publication Date: April 1, 2012
About the Author
Tracy Crow is a former Marine Corps officer and the author of Eyes Right: Confessions from a Woman Marine (Nebraska, 2012) and On Point: A Guide to Writing the Military Story (Potomac Books, 2015).