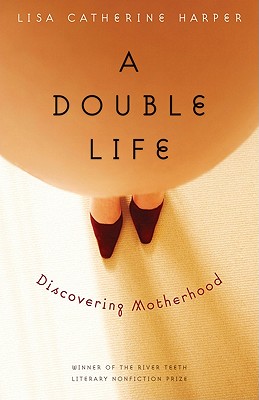 A Double Life
Discovering Motherhood (River Teeth Literary Nonfiction Prize)
Paperback

* Individual store prices may vary.
Other Editions of This Title:
MP3 CD (7/12/2016)
Description
There is no denying it: motherhood splits a woman's life forever, into a before and an after. To this doubled life Lisa Catherine Harper brings a wealth of feeling and a wry sense of humor, a will to understand the emotional and biological transformations that motherhood entails, and a narrative gift that any reader will enjoy. Harper documents her own journey across this great divide as a seasoned explorer might, observing, researching, relating anecdotes and critical information. From late-night Lindy Hop dancing to crippling sciatica, morning sickness to indulgent meals, graduate seminars to sophisticated ultrasounds, Harper marries scientific details with intimate insights as she uncovers the fascinating strangeness of this remarkably familiar territory.

Following Harper's first pregnancy from conception to her daughter's first word, A Double Life looks at how the biological facts of motherhood give rise to life-altering emotional and psychological changes. It shows us how motherhood transforms the female body, hijacks a woman's mind, and splits her life in two, creating an identity both brand new and as old as time. It charts the passage from individual to incubator, from pregnancy, labor, and nursing to language acquisition, from coupledom to the complex reality of family life. Harper's carefully researched story reminds us that motherhood's central joys are also its most essential transformations.
Watch a book trailer.
Praise For A Double Life: Discovering Motherhood (River Teeth Literary Nonfiction Prize)…
"A sweet, immediate articulation of the experience of pregnancy, birth and early motherhood."—Kirkus

"Harper's elegant, thoughtful writing makes this a must-read for expectant parents. . . . The author's decision to cast her own experiences against the larger backdrops of biology, family, and transformation makes her book universal, moving, and relevant."—Publishers Weekly

"The terrain of Harper's memoir—pregnancy, birth, the first months of motherhood—is familiar, but the honest and funny voice in which she tells it, and the nuanced observations with which it is filled, are unique."—Lindsey Mead, A Design So Vast

" I highly recommend this book to anyone who wants to remember that first nine of months of motherhood . . . . I also think that this would make a fabulous gift for a mother-to-be, whether it's her first pregnancy or her fourth, or even to a grandmother-to-be, so that she can remember her own pregnancy as she's living her daughter's."—Jennifer Donovan, 5MinutesforMom.com

"Anyone with a family—and those contemplating starting one—will enjoy this wry, revealing memoir of motherhood."—Georgia Rowe, San Jose Mercury News

"The way that Harper entwines science, history, narrative, and reflection makes reading this book like watching a carefully choreographed dance. . . . In each chapter, Harper explores one aspect of her emotional and physical reactions to pregnancy and childbirth, connecting her experiences with something larger. And whether she is meditating on movement, pain, love, faith, or mortality, she does so thoroughly, diving in and searching out what she really thinks and believes about the "double life" -- before and after motherhood -- that she's living."—Kate Hopper, Literary Mama
Bison Books, 9780803235083, 256pp.
Publication Date: March 1, 2011
About the Author
Lisa Catherine Harper teaches in the MFA program at the University of San Francisco. She lives with her husband, an art director for feature animated films, and their two children in the San Francisco Bay Area.