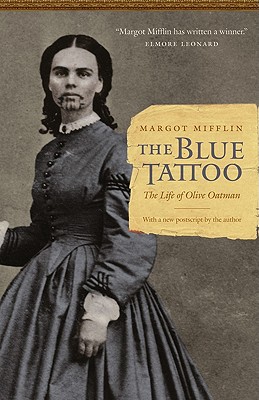 The Blue Tattoo
The Life of Olive Oatman (Women in the West)
Paperback

* Individual store prices may vary.
Other Editions of This Title:
Digital Audiobook (4/28/2016)
Hardcover (4/1/2009)
MP3 CD (4/29/2016)
Compact Disc (4/29/2016)
Description
2019 Tucson Weekly "40 Essential Arizona Books" pick
2014 One Book Yuma selection 
2010 Best of the Best from the University Presses (ALA) selection
2010 Caroline Bancroft History Prize Finalist
2009 Southwest Book of the Year

In 1851 Olive Oatman was a thirteen-year old pioneer traveling west toward Zion, with her Mormon family. Within a decade, she was a white Indian with a chin tattoo, caught between cultures. The Blue Tattoo tells the harrowing story of this forgotten heroine of frontier America. Orphaned when her family was brutally killed by Yavapai Indians, Oatman lived as a slave to her captors for a year before being traded to the Mohave, who tattooed her face and raised her as their own. She was fully assimilated and perfectly happy when, at nineteen, she was ransomed back to white society. She became an instant celebrity, but the price of fame was high and the pain of her ruptured childhood lasted a lifetime.   Based on historical records, including letters and diaries of Oatman's friends and relatives, The Blue Tattoo is the first book to examine her life from her childhood in Illinois—including the massacre, her captivity, and her return to white society—to her later years as a wealthy banker's wife in Texas.   Oatman's story has since become legend, inspiring artworks, fiction, film, radio plays, and even an episode of Death Valley Days starring Ronald Reagan. Its themes, from the perils of religious utopianism to the permeable border between civilization and savagery, are deeply rooted in the American psyche. Oatman's blue tattoo was a cultural symbol that evoked both the imprint of her Mohave past and the lingering scars of westward expansion. It also served as a reminder of her deepest secret, fully explored here for the first time: she never wanted to go home.
 Purchase the audio edition.
Praise For The Blue Tattoo: The Life of Olive Oatman (Women in the West)…
"An important and engrossing book, which reveals as much about the appetites and formulas of emerging mass culture as it does about tribal cultures in nineteenth-century America."—Times Literary Supplement

"An easy, flowing read, one you won't be able to put down."—Christian Science Monitor

"The Blue Tattoo is well-researched history that reads like unbelievable fiction, telling the story of Olive Oatman, the first tattooed American white woman. . . . Mifflin weaves together Olive's story with the history of American westward expansion, the Mohave, tattooing in America, and captivity literature in the 1800s."—Elizabeth Quinn, Bust

"In The Blue Tattoo, Margot Mifflin slices away the decades of mythology and puts the story in its proper historical context. What emerges is a riveting, well-researched portrait of a young woman—a survivor, but someone marked for life by the experience."—Jon Shumaker, Tucson Weekly

"The Blue Tattoo is well written and well researched; it re-opens the story of white women and men going West and Native people trying to survive these travels."—June Namias, Pacific Historical Review

"Mifflin's treatment of Olive's sojourns [provides] an excellent teaching opportunity about America's ongoing captivation with ethnic/gender crossings."—Western American Literature  

"Although Oatman's story on its own is full of intrigue, Mifflin adeptly uses her tale as a springboard for larger issues of the time."—Feminist Review

"Mifflin engagingly describes Oatman's ordeal and theorizes about its impact on Oatman herself as well as on popular imagination…. Her book adds nuance to Oatman's story and also humanizes the Mohave who adopted her. Recommended for general readers as well as students and scholars."—Library Journal

"Margot Mifflin sketches out a life in fine detail in her book The Blue Tattoo: The Life of Olive Oatman . . . . It rouses strong metaphors with timeless applications: the idea of what marks us, that which comprises our stories and how they are interpreted, appropriated or manipulated."—Melissa Corliss Delorenzo, Her Circle

"Margot Mifflin has written a winner. . . . The Blue Tattoo offers quite intense drama along with thorough scholarship."—Elmore Leonard, best-selling author of Three-Ten to Yuma and Other Stories
Bison Books, 9780803235175, 288pp.
Publication Date: April 1, 2011
About the Author
Margot Mifflin is an author and journalist who writes about women, art, and contemporary culture. The author of Bodies of Subversion: A Secret History of Women and Tattoo, she has written for many publications, including the New York Times, the New Yorker, Entertainment Weekly, the Believer, and Salon.com. Mifflin is a professor in the English Department of Lehman College of the City University of New York (CUNY) and directs the Arts and Culture program at CUNY's Graduate School of Journalism, where she also teaches.