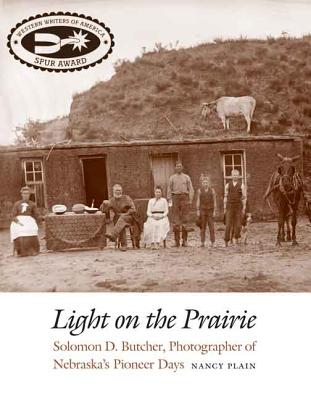 Light on the Prairie
Solomon D. Butcher, Photographer of Nebraska's Pioneer Days
Paperback

* Individual store prices may vary.
Description
Once President Lincoln signed the Homestead Act of 1862, which granted 160 acres of free land to anyone with the grit to farm it for five years, the rush to the Great Plains was on. Solomon D. Butcher was there to document it, amassing more than three thousand photographs and compiling the most complete record of the sod house era ever made.

Butcher (1856–1927) staked his claim on the plains in 1880. He didn't like farming, but he found another way to thrive. He had learned the art of photography as a teenager, and he began taking pictures of his friends and neighbors. Butcher noticed how fast the vast land was "settling up," so he formed the plan that would become his life's work—to record the frontier days in words and images.
Alongside sixty-two of Butcher's iconic photographs, Light on the Prairie conveys the irrepressible spirit of a man whose passion would give us a firsthand look at the men and women who settled the Great Plains. Like his subjects, Butcher was a pioneer, even though he held a camera more often than a plow.

Watch an interview with the author.

Praise For Light on the Prairie: Solomon D. Butcher, Photographer of Nebraska's Pioneer Days…
"Plain has again taken a subject, explored it deeply, and expressed the nuances of the story in a way that both educates and entertains. . . . This is a book that belongs in every Nebraska school, and the homes of anyone who wants to understand our western homestead legacy and Great Plains history better."—Candy Moulton, Fence Post

"The images in this collection are stunning. Farmers posed in front of sod houses, tracklayers working on the Union Pacific Railroad, corn harvesting, and even the sadness of a family gathered around a lonely grave, all iconic views reflecting the irrepressible spirit of the Nebraska pioneers who made this inhospitable region their home."—Larry Cox, Tucson Citizen

"Superbly reproducing sixty-two of Butcher's iconic photographs depicting life and times in frontier Nebraska, Light on the Prairie features an informed and informative commentary making it a very highly recommended and unique addition to personal, community, and academic library American History and American Photography reference collections and supplemental reading lists."—James A Cox, Midwest Book Review

"Nancy Plain's Light on the Prairie . . . places Butcher's work in its historical and sociological context, and provides a well-chosen sampling of his photographs."—Benjamin Schwarz, Atlantic

"Light on the Prairie serves as a model of how a book for young readers can educate as well as delight."—Kate Elliot, Annals of Iowa

"Plain has an enviable gift for storytelling."—M. Melissa Wolfe, Great Plains Quarterly
Bison Books, 9780803235205, 128pp.
Publication Date: September 1, 2012
About the Author
Nancy Plain is the author of nine children's books, including With One Sky Above Us: The Story of Chief Joseph and the Nez Perce Indians, winner of the 2010 Spur Award for Best Western Juvenile Nonfiction, and Sagebrush and Paintbrush: The Story of Charlie Russell, the Cowboy Artist, winner of the 2008 Spur Award for Best Western Juvenile Nonfiction. Her books have also won the Carter G. Woodson Honor award and First Place in Children's Nonfiction from the National Federation of Press Women.