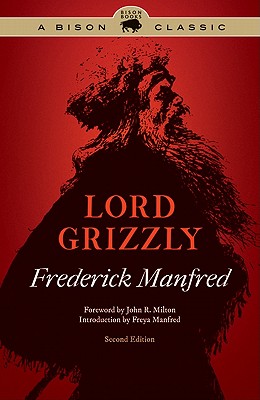 Lord Grizzly (Bison Classic Editions)
Paperback

* Individual store prices may vary.
Description
Hunter, trapper, resourceful fighter, and scout, Hugh Glass was just a rugged man among other rugged American frontiersmen until he was mauled by a grizzly bear and left for dead by his best friends. Hugh's rage drove him to crawl two hundred miles across dangerous territory to seek revenge until he was no longer Hugh Glass but had become Lord Grizzly.
Lord Grizzly is the second volume of Frederick Manfred's acclaimed five-volume series, The Buckskin Man Tales. For this Bison Books edition, poet Freya Manfred provides a new introduction.
Praise For Lord Grizzly (Bison Classic Editions)…
"Lord Grizzly is more than just an adventure: it's an examination of human character and emotion."—Minnesota Public Radio
— Minnesota Public Radio
Bison Books, 9780803235236, 310pp.
Publication Date: June 1, 2011
About the Author
Frederick Manfred (1912–94) grew up on a farm in Iowa with six brothers, attended Calvin College in Michigan, and then hitchhiked for two years across America, which provided him with rich material for his novels. He is the author of twenty-four novels, including a five-volume series, The Buckskin Man Tales, which includes Lord Grizzly, a finalist for the 1954 National Book Award, Conquering Horse, Scarlet Plume, King of Spades, and Riders of Judgment. He also published volumes of poetry, short stories, and essays. John R. Milton (1924–95) taught at the University of South Dakota and is the author of several works, including The Novel of the American West, South Dakota: A Bicentennial History, and The Tree of Bones and Other Poems. Freya Manfred is the author of the memoir Frederick Manfred: A Daughter Remembers and six books of poetry, including My Only Home and Swimming With A Hundred Year Old Snapping Turtle.