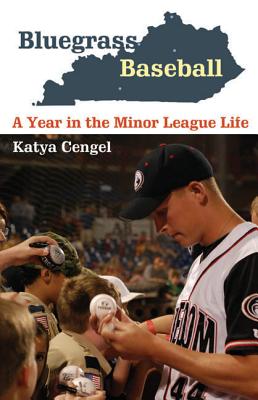 Bluegrass Baseball
A Year in the Minor League Life
Paperback

* Individual store prices may vary.
Description
Forget the steroid-addled, overpaid, and unmotivated players: America's pastime is still alive and well, and is still the heartfelt sport it's always been—in the Minor Leagues. And nowhere is this truer than in Kentucky, whose rich baseball history continues to play out in the four teams profiled in this book. Following these teams through the 2010 season—the triumphs, struggles, and big league hopes and dreams—the book tells the larger story of baseball in America's smaller venues, where the game in its purest form is still valued and warmly embraced. 
The story begins before the season with national-anthem singing tryouts in Lexington, then tags along with players, staffs, and fans at home, in the office, and on the field, offering a rare glimpse of the unglamorous reality of Minor League ball. From the front-office staff in Bowling Green planning kooky promotions, to a trainer grocery shopping for a team on forty dollars a day, to a new wife coming to terms with her husband's transitory lifestyle, to a father struggling to make it back to the Majors and a Cuban defector blowing everyone away with a 100-mph-plus fastball these are the people who live to make baseball happen, in all its nitty-gritty glory.  
Purchase the audio edition.
Praise For Bluegrass Baseball: A Year in the Minor League Life…
"Bluegrass Baseball performs a reality check for prospective players and owners in the minor leagues."—Dorothy Seymour Mills, New York Journal of Books

"With depth and sensitivity, Cengel details the grind faced by owners, players, trainers, groundskeepers, ushers, broadcasters, mascots and even local families who take in ball players as boarders in their homes. Life in the minors is devoid of chartered planes, fame and fortune, but these vivid, personal stories of ordinary people with a dedicated passion and drive for the game will serve as inspiration for all."—Kathleen Gerard, Shelf Awareness

"While Bluegrass Baseball is centered in Kentucky, the experiences of the players and employees are universal. It provides excellent insight into just what the minor leagues mean to just about anyone involved in the game."—James Bailey, Baseball America

"From the front office scheming wacky promos to trainers shopping for the team to players struggling for a shot to The Show, this nitty-gritty account puts you in that minor-league clubhouse. So well done you'll smell the bus fumes and hear that heckler over on the Bluegrass Baseball third-base line."—Society for American Baseball Research

"This was a fascinating way to look at minor league life from all levels and all angles. . . . If you are a fan of baseball and especially like to see the human side of these players that get out there every night for our entertainment, I would surely recommend picking up Bluegrass Baseball."—Daniel Shoptaw, C70 at the Bat

"Bluegrass Baseball portrays its large cast of characters with honesty and journalistic skill. It is a fast and engaging read."—Jeffrey P. Beck, AETHLON: The Journal of Sport Literature
University of Nebraska Press, 9780803235359, 272pp.
Publication Date: July 15, 2012
About the Author
Katya Cengel is a freelance writer based in San Luis Obispo, California, and lectures in the Journalism Department of California Polytechnic State University, San Luis Obispo. She was a features and news writer for the Louisville Courier-Journal from 2003 to 2011, and her work has appeared in the New York Times Magazine, the Wall Street Journal, the Washington Post, Marie Claire, and Newsweek. She is the author of Exiled: From the Killing Fields of Cambodia to California and Back (Potomac Books, 2018) and Bluegrass Baseball: A Year in the Minor League Life (Nebraska, 2012).