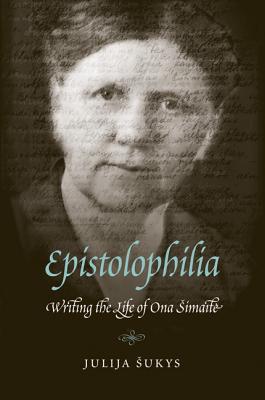 Epistolophilia
Writing the Life of Ona Simaite
Hardcover

* Individual store prices may vary.
Description
The librarian walks the streets of her beloved Paris. An old lady with a limp and an accent, she is invisible to most. Certainly no one recognizes her as the warrior and revolutionary she was, when again and again she slipped into the Jewish ghetto of German-occupied Vilnius to carry food, clothes, medicine, money, and counterfeit documents to its prisoners. Often she left with letters to deliver, manuscripts to hide, and even sedated children swathed in sacks. In 1944 she was captured by the Gestapo, tortured for twelve days, and deported to Dachau.
Through Epistolophilia, Julija Šukys follows the letters and journals—the "life-writing"—of this woman, Ona Šimaitė (1894–1970). A treasurer of words, Šimaitė carefully collected, preserved, and archived the written record of her life, including thousands of letters, scores of diaries, articles, and press clippings. Journeying through these words, Šukys negotiates with the ghost of Šimaitė, beckoning back to life this quiet and worldly heroine—a giant of Holocaust history (one of Yad Vashem's honored "Righteous Among the Nations") and yet so little known. The result is at once a mediated self-portrait and a measured perspective on a remarkable life. It reveals the meaning of life-writing, how women write their lives publicly and privately, and how their words attach them—and us—to life.
Praise For Epistolophilia: Writing the Life of Ona Simaite…
"A remarkable work of research, translation, and recovery that tells the story of an unlikely, long-overlooked heroine."—Ned Stuckey-French, Fourth Genre

"Epistolophilia is not a typical biography, and Šimaitė was not a typical World War II hero. For readers looking for an unconventional account of the World War II and post-war eras, as well as those interested in women's life writing, Epistolophilia is a nuanced and compelling work."—ForeWord Reviews

"Sukys draws liberally from thousands of pages of correspondence and numerous diaries to create a portrait of a deeply thoughtful woman trying to make sense of history and her own life by putting it all to paper. Also of Lithuanian descent, Sukys's own meditations on the power of letters and writing make this a powerful testament to the confluence of history and individual lives and passions."—Publishers Weekly

"Sukys is to be commended for providing us with this testament and story of a little known hero, who might otherwise have been overlooked."—Abe Novick, Baltimore Jewish Times

"A startling paradox that while Simaite died at 76 before completing her memoirs, Sukys is able to capture Simaite's story while successfully writing an unexpected memoir of her own."—Meredith Wood Bahuriak, PLOP! Review

"Sukys is to be commended for providing us with this testament and story of a little known hero. . . . The writing is done with care and precision bringing to life a woman who we might have otherwise overlooked."—Jerusalem Post

"A mosaic of Šimaitė's life, Epistolophilia enables readers to create a three-dimensional person with the little information available."—Mélanie Grondin, Montreal Review of Books

"An intelligent, humane, and noble book that rescues from obscurity an intelligent, humane, and noble woman. It stands as a testament to the power of reading, writing, compassion, and extraordinary courage."—David Bezmozgis, author of The Free World

"With this searching, nuanced biography, Julija Šukys introduces the English-speaking world to a genuine heroine of the Holocaust, while at the same time raising vital questions about the role of trauma, poverty, and ill health on women's literary production."—Susan Olding, author of Pathologies: A Life in Essays

"This is an important new take on the legacy of the Holocaust. Eloquent and elegantly written, it reads like a Sebald text but with a voice profoundly its own."—Laura Levitt, professor of Religion, Jewish Studies, and Gender at Temple University
University of Nebraska Press, 9780803236325, 240pp.
Publication Date: March 1, 2012
About the Author
Julija Šukys is an assistant professor of creative writing at the Department of English at the University of Missouri–Columbia. She is the author of Silence Is Death: The Life and Work of Tahar Djaout (Nebraska, 2007).