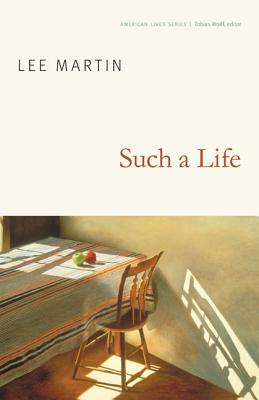 Such a Life (American Lives )
Paperback

* Individual store prices may vary.
Description
Lee Martin tells us in his memoir, "I was never meant to come along. My parents married late. My father was thirty-eight, my mother forty-one. When he found out she was pregnant, he asked the doctor, 'Can you get rid of it?'" From such an inauspicious beginning, Martin began collecting impressions that, through the tincture of time and the magic of his narrative gift, have become the finely wrought pieces of Such a Life.
  Whether recounting the observations of a solemn child, understood only much later, or exploring the intricacies of neighborhood politics at middle age, Martin offers us a richly detailed, highly personal view that effortlessly expands to illuminate our world.
  At a tender age Martin moved to a new level of complexity, of negotiating silences and sadness, when his father lost both of his hands in a farming accident. His stories of youth (from a first kiss to a first hangover) and his reflections on age (as a vegan recalling the farm food of his childhood or as a writer contemplating the manual labor of his father and grandfather) bear witness to the observant child he was and the insightful and irresistible storyteller he's become. His meditations on family form a highly evocative portrait of the relationships at the heart of our lives.

Praise For Such a Life (American Lives )…
"At one point in Lee Martin's contemplative memoir, the narrator muses: 'I shake my head over all the things we can't say, all the secrets we carry around, all of us swollen with worry. . . . I've had to write this [book] to claim the whole, weighty truth of myself.' Throughout his tale, Martin does indeed articulate weighty truths, but he does so with such clarity that he reflects this truth-seeking light back on the reader. We find ourselves shaking our heads, mulling over our own secrets, and looking to Martin to help us find the language to speak them."—Brenda Miller, author of Season of the Body and Blessing of the Animals

"In vivid and lyrical prose, [Martin] explores the relationship between childhood and the adult self. What is the connection between a first kiss and the adult demands of marriage? Between that first sensual awakening to language and the language of responsibility and commitment? Childless himself, Martin's quest to unite his past and present forces him to confront the fundamental issues of mortality and meaning with the largeness of his big, easily broken, but irrepressible midwestern heart."—Sue William Silverman, author of Fearless Confessions: A Writer's Guide to Memoir

"Rich with empathy, wisdom, and wry humor, each essay in this remarkable book rewards the reader with exquisitely captured detail and brilliant characterization. In Such a Life, Pulitzer Prize finalist Lee Martin proves once again that he is the consummate storyteller, no matter where he puts his talents. An extraordinary, unforgettable book."—Dinty W. Moore, author of Between Panic and Desire

"Both frank and compassionate, Martin's tales will entertain memoir readers as well as fans of his novels."—Rick Roche, Booklist
University of Nebraska Press, 9780803236479, 232pp.
Publication Date: March 1, 2012
About the Author
Lee Martin is a professor of English and teaches creative writing at Ohio State University. He is the author of the novels The Bright Forever, finalist for the 2006 Pulitzer Prize for Fiction, and most recently, Break the Skin, as well as two other memoirs, Turning Bones and From Our House, both available from the University of Nebraska Press.