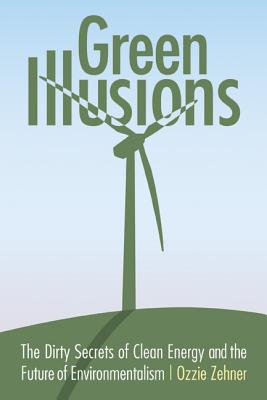 Green Illusions
The Dirty Secrets of Clean Energy and the Future of Environmentalism (Our Sustainable Future)
Paperback

* Individual store prices may vary.
Description
We don't have an energy crisis. We have a consumption crisis. And this book, which takes aim at cherished assumptions regarding energy, offers refreshingly straight talk about what's wrong with the way we think and talk about the problem. Though we generally believe we can solve environmental problems with more energy—more solar cells, wind turbines, and biofuels—alternative technologies come with their own side effects and limitations. How, for instance, do solar cells cause harm? Why can't engineers solve wind power's biggest obstacle? Why won't contraception solve the problem of overpopulation lying at the heart of our concerns about energy, and what will?
This practical, environmentally informed, and lucid book persuasively argues for a change of perspective. If consumption is the problem, as Ozzie Zehner suggests, then we need to shift our focus from suspect alternative energies to improving social and political fundamentals: walkable communities, improved consumption, enlightened governance, and, most notably, women's rights. The dozens of first steps he offers are surprisingly straightforward. For instance, he introduces a simple sticker that promises a greater impact than all of the nation's solar cells. He uncovers why carbon taxes won't solve our energy challenges (and presents two taxes that could). Finally, he explores how future environmentalists will focus on similarly fresh alternatives that are affordable, clean, and can actually improve our well-being.
Watch a book trailer.
Praise For Green Illusions: The Dirty Secrets of Clean Energy and the Future of Environmentalism (Our Sustainable Future)…
"A bold look at the downside of green technologies and a host of refreshingly simple substitute solutions."—Kirkus

"What set Zehner's work apart from the glut of other environment-related titles are his fresh ideas and superlatively engaging prose."—Carl Hays, Booklist Online

"With chapter subtitles like "Step Away From the Pom-Poms" and epigraphs from the likes of Dr. Seuss, Zehner is a delightful apostate in the church of green energy."—Sarah Rothbard, slate.com

"This book is a must read for anyone concerned with sustainable living."—Daniel J. Benor, International Journal of Healing and Caring

"All Americans should read this book."—K. J. White, Choice

"As a nation, we have hard decisions before us. We need to find actual, tangible solutions that will make a real difference. Our path begins with critical thinking and informed choices. This book helps us get started."—Jonathan Hladik, Great Plains Research
University of Nebraska Press, 9780803237759, 464pp.
Publication Date: June 1, 2012
About the Author
Ozzie Zehner, who has collaborated on numerous projects in industry, government, and academia, is a visiting scholar at the University of California, Berkeley.