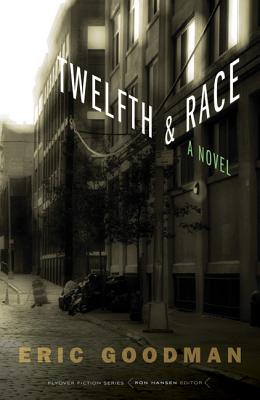 Twelfth and Race (Flyover Fiction)
Paperback

* Individual store prices may vary.
Description
Life takes a strange turn when Richard Allan Gordon, thirty years old and as white as they come, discovers that, as a result of identity theft, five-year-old Jada Reece Gordon bears his name. The product of a  middle-class Jewish upbringing, Richie finds himself completely in love and lust with Jada's mother, LaTisha, a twenty-five-year-old African American nursing student, and longs to be a father to her child.  Richie and LaTisha's story takes place at the intersection of love, race, and identity, as the couple is forced to examine their relationship in light of a terrible event that takes the life of a young black father and catapults their midwestern city into chaos. As riots erupt around them and Richie discovers a secret about his own past that challenges his long-held ideas, he and LaTisha must come to grips with the forces that threaten to tear their relationship apart. A novel that doesn't shy away from the racism that dwells within the unexamined hearts of so many Americans, Twelfth and Race may shock or outrage some readers, yet its story is ultimately timely, honest, and hopeful.
Praise For Twelfth and Race (Flyover Fiction)…
"Eric Goodman brilliantly dramatizes the complex workings of the skin game in our supposedly 'post-racial' America. . . . This is fiction at its best, prose that touches, prose that asks us to think more about who we are, that demands that we be more than we are. A significant achievement."—Jeffery Renard Allen, author of Rails under My Back

"A wonderful puzzle, leaving us wondering who has stolen whose identity. There's an amazing amount of wit, soul, candor, and erotic and intoxicating energy in this deeply probing and suspenseful novel. An amazingly and gloriously fulfilling read."—Josip Novakovich, author of April Fool's Day and Salvation and Other Disasters

"Goodman's writing is raw and honest, with a deep and evident appreciation of some fairly sensitive themes. Readers who have enjoyed the work of Mark Perry, Rebecca Walker, and Gary Nash should appreciate this passionate, complex, and insightful novel."—Stephanie Turza, Booklist

"Eric Goodman isn't afraid to examine the racism that still exists in present-day America through his book, Twelfth and Race. A unique discussion about race and identity is wrapped in a powerful love story, allowing the reader to feel more passionately about the issue of racism as they sympathize with the characters."—Kelsey Hansen, Deseret News

"[Twelfth and Race] is a fascinating new novel about the intersection of neighborhoods, but also of cultures, races–and, above all, of seemingly unconnected people whose lives intersect in unexpected ways."—Jewniverse

"Goodman, with language that engages the senses and the mind, creates an honest look at race and identity, unafraid of the emotions or controversy his novel might stir. . . . Conversations about race and identity are not easy ones, but through his writing Goodman encourages self-reflection and starts the dialogue. We need more books like Twelfth & Race."—Alyssa Jocson, Gently Read Literature
Bison Books, 9780803239807, 288pp.
Publication Date: March 1, 2012
About the Author
Eric Goodman, a professor of English at Miami University of Ohio, has published four previous novels, including Child of My Right Hand and In Days of Awe.