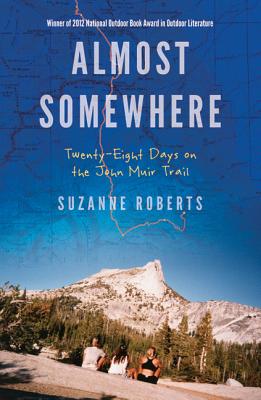 Almost Somewhere
Twenty-Eight Days on the John Muir Trail (Outdoor Lives)
Paperback

* Individual store prices may vary.
Other Editions of This Title:
Digital Audiobook (9/25/2017)
MP3 CD (9/26/2017)
Compact Disc (9/26/2017)
Description
Winner of the 2012 National Outdoor Book Award in Outdoor Literature

Day One, and already she was lying in her journal. It was 1993, Suzanne Roberts had just finished college, and when her friend suggested they hike California's John Muir Trail, the adventure sounded like the perfect distraction from a difficult home life and thoughts about the future. But she never imagined that the twenty-eight-day hike would change her life. Part memoir, part nature writing, part travelogue, Almost Somewhere is Roberts's account of that hike.
John Muir had written of the Sierra Nevada as a "vast range of light," and this was exactly what Roberts was looking for. But traveling with two girlfriends, one experienced and unflappable and the other inexperienced and bulimic, she quickly discovered that she needed a new frame of reference. Her story of a month in the backcountry—confronting bears, snowy passes, broken equipment, injuries, and strange men—is as much about finding a woman's way into outdoor experience as it is about the natural world she so eloquently describes. Candid and funny and, finally, wise, Almost Somewhere is not just the whimsical coming-of-age story of a young woman ill-prepared for a month in the mountains but also the reflection of a distinctly feminine view of nature.   
Watch a book trailer.
Purchase the audio edition.
Praise For Almost Somewhere: Twenty-Eight Days on the John Muir Trail (Outdoor Lives)…
"[
Almost Somewhere
] will appeal to readers of travel and nature books, as well as those who enjoy reading about social interactions and group dynamics."—
Kirkus
"
Almost Somewhere
is, at all turns, a gratifying read. It is intimate and funny, sharp and pensive, and its readers—if not inspired to undertake their own adventures—will certainly be sad to leave Roberts at the trail's end."—Michelle Schingler,
ForeWord
"Roberts dares to combine a hiking adventure with a healthy dose of humor and female bonding in all its complicated and turbulent best. . . . An utterly refreshing outdoors memoir free of the seemingly manufactured drama so many similar titles contain. A delightful and quite literary diversion."—Colleen Mondor,
Booklist
"[
Almost Somewhere
is] a 260-page journey that is bound to take you beyond the John Muir Trail."—Kathryn Reed,
Lake Tahoe News
"
Almost Somewhere
is a contribution to the growing body of women's nature writing, and a worthwhile, entertaining and occasionally funny story of the California wilderness."—Julia Jenkins,
Shelf Awareness
"This is not a backpacking primer, but rather one on young females in search of themselves as they prepare for life after college. We read about insecurities, jealously, lust, self-esteem, tears, bingeing, self-realization, learning to appreciate oneself for oneself, and interpersonal relationships. And come away with the author's realization that mountains in general, and the JMT specifically, provide a spectacular backdrop to work through these issues and absorb the associated lessons."—Kurt Repanshek,
National Parks Traveler
"Readers who have walked sections of the John Muir Trail will appreciate Roberts's accurate descriptions of lakes and passes, of trail-worn feet, and of the fleeting moments when you seem to float down the trail."—Bradley John Monsma,
ISLE
"This book is one I didn't want to end. I felt as if I were hiking with Roberts. When she finished, I would be finished, and like her, I would be sad to be done."—Eve Quesnel,
Moonshine Ink
"
Almost Somewhere
will not disappoint. It is a wonderful read for outdoor lovers and inspirational for anyone experiencing self-doubt. The message that resonates is as Roberts says, "It's not just in the having done but in the doing . . . being "Almost Somewhere.""—Gloria Sinibaldi,
North Lake Tahoe Bonanza
"Suzanne Roberts sets off on a remarkable Sierra journey that will test the limits of physical endurance, of friendship, and of faith in self. . . . This is not the usual wilderness story of independence, competition, and violence. Here, thankfully, is the more urgent story of intimacy, community, and compassion. A loving, and lovely, ode to life."—John T. Price, author of Not Just Any Land
"In Almost Somewhere we get to travel both the physical John Muir Trail—its history, its flowers and trees and shadowy peaks—and the gritty emotional landscape of the three women who make the journey. Where are we in the world, anyway? Suzanne Roberts helps us know that the only place we can be is here, giving it all we have, day by day."—Fleda Brown, author of Driving with Dvořák
Bison Books, 9780803240124, 280pp.
Publication Date: September 1, 2012
About the Author
Suzanne Roberts teaches English at Lake Tahoe Community College and for the low-residency MFA program at Sierra Nevada College. Named "The Next Great Travel Writer" by National Geographic Traveler magazine, Roberts is the author of four collections of poetry, and has published work in numerous journals and anthologies.