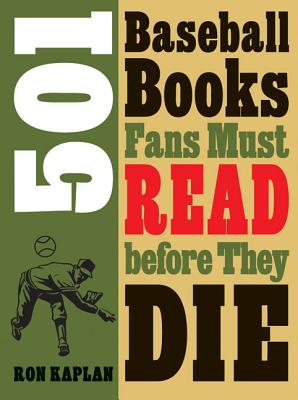 501 Baseball Books Fans Must Read before They Die (Paperback)
University of Nebraska Press, 9780803240735, 420pp.
Publication Date: April 1, 2013
* Individual store prices may vary.
Description
Propounding his "small ball theory" of sports literature, George Plimpton proposed that "the smaller the ball, the more formidable the literature." Of course he had the relatively small baseball in mind, because its literature is formidable—vast and varied, instructive, often wildly entertaining, and occasionally brilliant. From this bewildering array of baseball books, Ron Kaplan has chosen 501 of the best, making it easier for fans to find just the books to suit them (or to know what they're missing).
From biography, history, fiction, and instruction to books about ballparks, business, and rules, anyone who loves to read about baseball will find in this book a companionable guide, far more fun than a reference work has any right to be.
About the Author
Ron Kaplan is a sports and features writer and editor for the New Jersey Jewish News. His book reviews, author interviews, and articles have appeared in publications such as the Huffington Post, Baseball America, and Mental Floss, and he hosts a blog on baseball literature.
Praise For 501 Baseball Books Fans Must Read before They Die…
"Sportswriter and blogger Kaplan's first book is a fun and useful guide for finding arguably the best baseball books among the mounds of titles relating to this book-inspiring sport. . . . The author's well-informed and well-written comments are compelling enough to make this either a worthwhile light read or a handy reference for all readers of baseball literature."—Library Journal
— Library Journal
"[501 Baseball Books Fans Must Read before They Die is] a generous, well-researched, and entertaining list of suggestions of what to read next."—Allan Wood, The Joy of Sox
— Allan Wood
"501 Baseball Books is a remarkable compendium of national pastime tomes."—Benjamin Hill, MILB.com
— Benjamin Hill
"A self-proclaimed pack rat and baseball junkie, it's amazing enough that Kaplan was able to read all 501 of these books—to offer comprehensive summaries of each and every one is a truly remarkable accomplishment."—Foreword Reviews
— Foreword Reviews
"A fantastic page-turner. . . . Without a doubt 501 is a SABRite's ultimate reading bucket list."—John Vorperian, Southern New England Chapter, Society for American Baseball Research
— John Vorperian
"Check off which ones you've read, and jot down a list of ones you'd like to hunt down. Then get busy."—James Bailey, Baseball America
— James Bailey