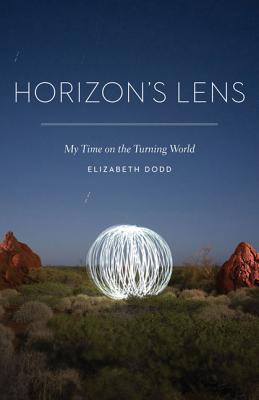 Horizon's Lens (Paperback)
My Time on the Turning World
University of Nebraska Press, 9780803240780, 256pp.
Publication Date: September 1, 2012
* Individual store prices may vary.
Description
In a lyrical memoir and meditation on the nature of time and place, Elizabeth Dodd explores a variety of landscapes, reading the records left by inhabitants and by time itself. In spring in the Yucatán peninsula, she marks the equinox among the ruins of the Maya. In summer in the Orkney Islands, she considers linguistic and historic connections with Icelandic sagas. In tallgrass country in the fall, she observes bison and black-footed ferrets returning to their ancestral landscape. In winter in the canyons of the Ancestral Puebloans, she notes the standstill positions of the sun and the moon.

Ranging across continents and millennia, Dodd examines how people have inscribed the concept of time into their physical environments, through rock art, standing stones, and the alignment of buildings on the landscape. She follows the etymological trail of various languages, blending research with travel narrative and aesthetic meditation. From musings on the origin of the sandhill cranes' transcontinental journey to reflections on the dimming light of shortening days as the winter solstice approaches, from depictions of exploding stars in ancient petroglyphs to meditations on the Great North Road, whose purpose scientists have yet to discover, Dodd captures the interstices of the natural world.

About the Author
Elizabeth Dodd is University Distinguished Professor of English at Kansas State University. Her books include In the Mind's Eye: Essays across the Animate World (Nebraska, 2008).

Praise For Horizon's Lens: My Time on the Turning World…
"A lyrical exploration of landscape, language, and history. At once intimate and wide-ranging, Dodd's walking meditations weave unexpected connections between the places and ideas she explores. . . . This latest volume confirms that Dodd is one of America's finest essayists of place."—Chris Arthur, author of
Words of the Grey Wind
— Chris Arthur
"Dodd entwines the details of her camping life—cold nights, hard beds, basic food—with her ruminations on culture, anthropology, geography, time and many other subjects. These essays . . . demand to be read and then reread with care."—Kirkus Reviews
— Kirkus Reviews
"Profoundly receptive to the land and its echoes, steeped in history and cosmologies, beautifully expressive, funny, and self-deprecating, Dodd is fascinated with how language embodies and gives voice to place and with the art of timekeeping, from petroglyphs measuring the course of the sun and moon to calendars, almanacs, and even social-media status updates."—Donna Seaman, Booklist
— Donna Seaman
"[Horizon's Lens is ] a wide-ranging, warm, and intellectually generous work of hybrid scholarship and personal essay."—Catherine Meeks, ISLE
— Catherine Meeks
"Dodd's prose gives the impression that every single word—in meaning, sound, and relation to other words—was carefully chosen and crafted."—Melanie Dylan Fox, Terrain.org
— Melanie Dylan Fox