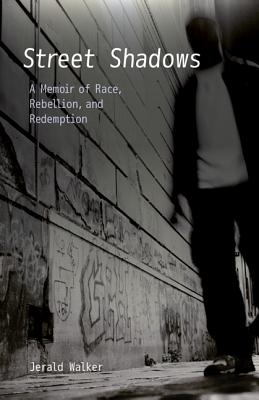 Street Shadows
A Memoir of Race, Rebellion, and Redemption
Paperback

* Individual store prices may vary.
Description
Street Shadows recounts Jerald Walker's renunciation of the "thug life" he had embraced as a teenager on the South Side of Chicago in favor of the education and middle-class life his parents had always dreamed of for their children. By turns ironic, humorous, angry, and poignant, Walker's narrative dramatically captures his pursuit and embodiment of the "American dream": the effort to rise above obstacles such as racism and poverty through hard work and determination.
Walker explores questions of race and identity through the lens of personal choice—including decisions he made as a high school dropout, a drug and alcohol abuser, a returning student, a young academic, a visitor to Africa in search of his roots, and a husband and father, as well as the diverse choices made by his blind parents, his six siblings, and his wife and her family. He highlights the importance of education, the values of self-help and self-reliance, and his rejection of the victim mentality that many feel pervades black communities.
Winner of the 2011 PEN New England/L. L. Winship Award for Nonfiction, Street Shadows is an eloquent account of how the past shadows but need not determine the present. It is also a stirring portrait of two Americas—one hopeless, the other inspirational—embodied within the same man.
Praise For Street Shadows: A Memoir of Race, Rebellion, and Redemption…
"[A] spectacular debut. . . . A funny, poignant, thoughtful and exceptionally well-written memoir. . . . While delivering a thorough, personal take on race relations, opportunity, and privilege, Walker hooks readers with his prose and honesty, without plying for sympathy or playing to readers' preconceptions."—Publishers Weekly

"I am a racist, Walker declares halfway through this thoughtful memoir, and much of the book is spent building up to and unpacking that statement. Born poor on the South Side of Chicago, Walker became an honor student, which made him vulnerable; and in defense, he succumbed to the urban undertow. A violent opening puts it all into play: drugs, sex, guns, gangs, and chance. But this is a feint; Walker pulls back from the salacious parts of his past to focus on his university education in Iowa City, his growth as a writer, his beginnings as a teacher, and the fairly banal struggles of being the rare black English professor at an East Coast college. The chapters alternate between his crime-filled youth and his increasingly egalitarian life of sushi dinners and awkward Kwanzaa faculty events, with the latter taking prominence. This will frustrate those looking for a gritty urban drama, but that's the point as Walker realizes his tale of black teenage delinquency seemed too cliched. This unique literary biography, however, is nothing of the sort."--Booklist

"[Walker] has written an inspiring book about willfully redirecting his life. But this is also a larger story about racial self-consciousness. . . . As his book makes clear, racism of a sort—latent, systemic or otherwise—is a simple fact of life in America. Destiny is another matter."—Economist

"Walker never fails to be honest where truth is needed and he never fails to be gracious where generosity is possible."—Marilynne Robinson, author of Gilead and Home
Bison Books, 9780803240957, 256pp.
Publication Date: March 1, 2012
About the Author
Jerald Walker is an associate professor of creative writing at Emerson College. His work has appeared in numerous magazines and anthologies, including multiple times in Best American Essays.