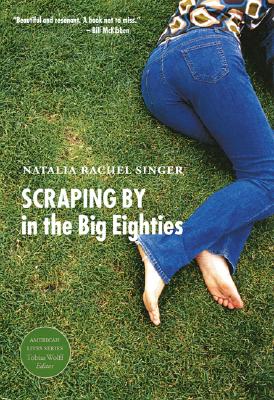 Scraping By in the Big Eighties
Hardcover

* Individual store prices may vary.
Description
Natalia Singer's plan, when she headed for Seattle in 1979, was to get laid off, go on unemployment, and become laid back. Meanwhile she would train herself to become a writer. Rejecting the avid materialism of her generation and the violence of American culture, she vowed to surround herself with natural beauty, steer clear of her mentally ill mother, and contribute nothing to the fluorescent-lit, acronym-ridden, anesthetizing military-industrial complex. Her quest, which she hoped would bring her peace, safety, and creative fulfillment, actually put her increasingly in harm's way. It has, however, paid enormous dividends for readers who here have the perverse yet exquisite pleasure of following Singer's low-budget search for a bohemian haven during the last gasp of the cold war.
Singer's tortuous path, chronicled with self-deprecating wit and disconcerting candor, leads her to a duplex in Seattle, a Buddhist monastery in the Catskills, a ghost town on the Olympic Peninsula, a beach hut in Mexico, graduate school in western Massachusetts, and even a Left Bank convent, but it never frees her from her identity and obligations as an American, either at home or abroad. Singer blends memoir with cultural history to critique Reaganomics, military buildups in the face of eroding social programs and growing national debt, the hypocrisy of so-called family values, and her own complicity in all of it. Scraping By in the Big Eighties is, more than anything, about taking politics personally. Lyrical, meditative, occasionally heartbreaking, and often darkly comic, this book about mistakes blithely made in decades past is nonetheless still timely today.
Praise For Scraping By in the Big Eighties…
"Natalia Singer has captured the ''80s perfectly—the real, tough ''80s that serve as the prelude to our current rightward plunge. But more than that she tells two timeless stories: a hard one about what it means to have a crazy mother, and a sweet one about what it means to come to terms and to come of age. Her writing is blessedly funny, relaxed; her story is unexpectedly beautiful and resonant. A book not to miss."—Bill McKibben, author of The End of Nature
-Bill McKibben

"With the authority of a prophet, the street smarts of a stand-up comic, and the compassion of a saint, Natalia Rachel Singer leads us into the fractious corners of an America she will not allow herself or us to ignore or forget. Writing with wit, élan, and rare insight, Singer captures the collisions of a splintered personal world in an equally splintered culture. Never didactic, she is simply a chronicler of the times of the highest literary order and an unflinching memoirist, someone who deserves the widest of audiences."—Robin Hemley, author of Nola: A Memoir of Faith, Art, and Madnes
-Robin Hemley

"Singer''s book is a memoir, but it is also social commentary, political critique, and a portrait of its times that, in its best moments, can stand beside something like Joan Didion''s The White Album or Slouching Towards Bethlehem."—Rosellen Brown, author of Before and After and Half a Heart
-Rosellen Brown

"A portrait of a time that doesn''t jibe with so many of the official versions, in which the eighties were halcyon days filled with milk and honey, kindness and plenty, happiness and political harmony. Ms. Singer''s work stands up to those lies and more."—Bill Roorbach, author of Writing Life Stories
-Bill Roorbach

"A tumultuous yet life-affirming quest for truth, beauty, and creativity in the self-absorbed 80's…. Straightforward and engaging."—Cheryl Burke, Bust
-Cheryl Burke

"Here is a memoir with bite. . . . It is much more than her personal story—though that would make for a very interesting book all by itself. It is also a scathing critique of the Reagan years. This will be a controversial book, but. . . . a page turner."—The Michigan Historical Review
University of Nebraska Press, 9780803243095, 227pp.
Publication Date: September 1, 2004
About the Author
Natalia Rachel Singer is an associate professor of English at St. Lawrence University. She is the coeditor of "Living North Country: Essays on Life and Landscapes in Northern New York."
or
Not Currently Available for Direct Purchase