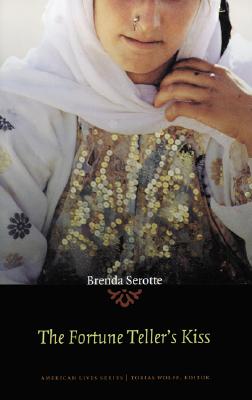 The Fortune Teller's Kiss (American Lives )
Hardcover

* Individual store prices may vary.
Other Editions of This Title:
Paperback (2/1/2012)
Description
There was always the incantation: "Whoever wishes you harm, may harm come to them!" And just in case that didn't work, there were garlic and cloves to repel the Evil Eye—or, better yet, the dried foreskin from a baby boy's circumcision, ground to a fine powder. But whatever precautions Brenda Serotte was subjected to, they were not enough. Shortly before her eighth birthday, in the fall of 1954, she came down with polio—painfully singled out in a world already marked by differences. Her bout with the dreaded disease is at the heart of this poignant and heartbreakingly hilarious memoir of growing up a Sephardic Jew among Ashkenazi neighbors in the Bronx.
This was a world of belly dancers and fortune tellers, shelter drills and vast quantities of Mediterranean food; a world of staunchly joined and endlessly contrary aunts and uncles, all drawn here in loving, merciless detail. The Fortune Teller's Kiss is a heartfelt tribute to a disappearing culture and a paean to the author's truly quirky clan, especially her beloved champion, her father. It is also a deft and intimate cultural history of the Bronx fifty years ago and of its middle-class inhabitants, their attitudes toward contagious illness, womanly beauty, poverty, and belonging.
Praise For The Fortune Teller's Kiss (American Lives )…
"Poet Serotte relives a childhood cataclysm in this culture-rich, affecting memoir, part of the American Lives literary nonfiction series. In 1954 she contracted polio, mere months before Jonas Salk perfected his vaccine-a coincidence that struck her Sephardic Jewish household as especially cruel. . . . She explores the identity that confounds her: first, her 'bouillabaisse' blood line and, later, the immobility that suspends her between 'normal' and 'special,' as she limns her family with wry affection that doesn't blot out their flaws. The drama of Serotte's struggle to walk again, filtered through the tender emotion of youth, creates an aromatic narrative brew that reveals her destiny in riveting detail."—Publishers Weekly

"Poet Serotte turns to prose to recreate her childhood as a Sephardic Jew in post-WWII New York. . . . Serotte brilliantly recreates the sheer dread the very word 'polio' evoked in those pre–Jonas Salk days. Her description of her family's response to her illness is unflinching. . . . An unquestionably heroic narrative that never sounds preening or self-satisfied."—Kirkus Reviews

"Serotte is a marvelous storyteller, and this book, one of the American Lives Series, is a profoundly moving memoir."—Booklist

"The Fortune Teller's Kiss is an eloquent brief on the transformative powers of stories, giving us permission to enter a private territory and offering the limitless interpretations to which a good memoir lends itself." —Tara Kai, Sun-Sentinel

"[A] fascinating story with scenes of great humor and deep pathos, and a beautifully written account of a life-changing experience. . . . [Serotte's] refusal to succumb to despair despite her terrifying ordeal speaks to the hope that lies within every heart, and gives this powerful book universal appeal."—Jewish Book World
University of Nebraska Press, 9780803243262, 220pp.
Publication Date: March 1, 2006
About the Author
Brenda Serotte is a poet and an adjunct professor at Nova Southeastern University in Fort Lauderdale, Florida. Her poetry and prose have appeared in numerous publications, such as Atlanta Review, Kit-Kat Review, Quarter after Eight: A Journal of Prose and Commentary, and Fourth Genre, from which her chapter "Contagious" was nominated for a Pushcart Prize.
or
Not Currently Available for Direct Purchase