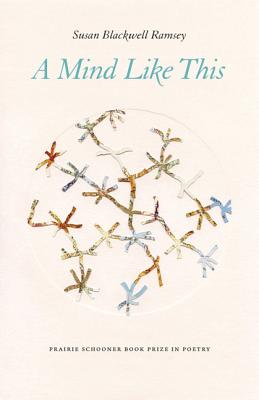 A Mind Like This (Paperback)
University of Nebraska Press, 9780803243385, 90pp.
Publication Date: September 1, 2012
Description
Winner of the Prairie Schooner Book Prize in Poetry, Susan Blackwell Ramsey's A Mind Like This is a work of humor and wit, unexpectedly delightful and full of surprises as it reflects on the oddness of everyday life, the natural world, literary history, popular culture, and more. Everything is fair game for Ramsey, who finds poetry in love and sickness and life, of course, but also in knitting and unreliable bladders and the peculiar name of Kalamazoo. Neruda makes an appearance, as do Eric Clapton and Brahms, Leonard and Virginia Woolf, and Jimmy Stewart. Whether observing the pickled heads of Peter the Great's offenders, wondering "How to Seduce Henry David Thoreau," becoming the insecure voice of Kalamazoo, or puzzling over the intricacies of the mind that blocks a dear friend's birthday while preserving the name of Emily Dickinson's dog in perpetuity, Ramsey's collection is wise and funny, allusive and deeply felt.

About the Author
Susan Blackwell Ramsey is an instructor at Kalamazoo Institute of Art. She won the Marjorie J. Wilson Award from Margie: The Journal for American Poetry and her poem "Pickled Heads, St. Petersburg" was chosen for the 2009 edition of Best American Poetry.
Advertisement