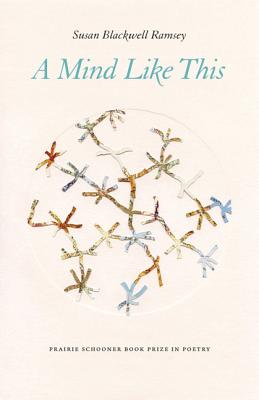 A Mind Like This (The Raz/Shumaker Prairie Schooner Book Prize in Poetry)
Paperback

* Individual store prices may vary.
Description
Winner of the Prairie Schooner Book Prize in Poetry, Susan Blackwell Ramsey's A Mind Like This is a work of humor and wit, unexpectedly delightful and full of surprises as it reflects on the oddness of everyday life, the natural world, literary history, popular culture, and more. Everything is fair game for Ramsey, who finds poetry in love and sickness and life, of course, but also in knitting and unreliable bladders and the peculiar name of Kalamazoo. Neruda makes an appearance, as do Eric Clapton and Brahms, Leonard and Virginia Woolf, and Jimmy Stewart.  Whether observing the pickled heads of Peter the Great's offenders, wondering "How to Seduce Henry David Thoreau," becoming the insecure voice of Kalamazoo, or puzzling over the intricacies of the  mind that blocks a dear friend's birthday while preserving the name of Emily Dickinson's dog in perpetuity, Ramsey's collection is wise and funny, allusive and deeply felt.
 Purchase the audio edition.
Praise For A Mind Like This (The Raz/Shumaker Prairie Schooner Book Prize in Poetry)…
"Susan Blackwell Ramsey, a poet of unending curiosity, gives us ample evidence here of what the mind can find when it goes looking for what it does not yet see. Her poems have a way of making the world feel just discovered, and convey a sense of attachment to people that is expansive and invigorating. This is a fine book by a wonderful poet."—Bob Hicok, author of
Words for Empty and Words for Full
"Susan Blackwell Ramsey—a poet who sees, remembers, and sorts it all out. Check out 'Our Third Wedding Reception This Year,' a sonnet with meter and rhyme all in place, but so conversational that formalities slip away and the story itself unfolds as though the teller were sitting across from us at the window."—Conrad Hilberry, author of After-Music


"Rife with humor and grace. . . . A Mind Like This showcases a supremely supple and cultivated imagination that unbolts yards and yards of elegant and ardent poems. But the real thrill? Her dazzling wit that lights the whole collection aflame."—Aimee Nezhukumatathil, author of Lucky Fish

"A Mind Like This covers so much ground with such unbridled enthusiasm at the joy of language and the mysteries of mind that only poetry can attempt to illuminate that, fifty-four poems later, the reader will be on the lookout for Ramsey's next book, and possibly scouring literary magazines for a more immediate fix."—Daniel Coffey, ForeWord
University of Nebraska Press, 9780803243385, 112pp.
Publication Date: September 1, 2012
About the Author
Susan Blackwell Ramsey is an instructor at Kalamazoo Institute of Art. She won the Marjorie J. Wilson Award from
Margie: The Journal for American Poetry
and her poem "Pickled Heads, St. Petersburg" was chosen for the 2009 edition of
Best American Poetry
.