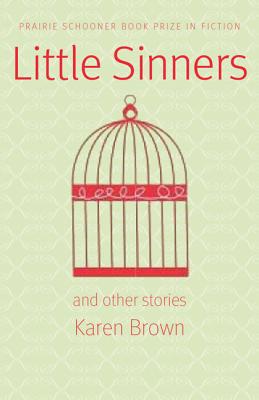 Little Sinners, and Other Stories (Prairie Schooner Book Prize in Fiction) (Paperback)
University of Nebraska Press, 9780803243422, 208pp.
Publication Date: September 1, 2012
* Individual store prices may vary.
Description
Winner of the Prairie Schooner Book Prize in Fiction, Karen Brown's Little Sinners, and Other Stories features a sad, strange mosaic of women and men grappling with the loss and pain of everyday existence, people inhabiting a suburban landscape haunted by ghosts: a mother who leaps from a ridge, a mistress found at the bottom of the Connecticut River, a father who dresses in a pale blue-custom suit—and disappears. The dead leave behind postcards, houses, bottles of sherry, bones. They become local legends, their stories part of the characters' own: an expectant mother in an isolated cottage on Long Island Sound uncovers an unsettling secret in her backyard; a troubled housewife is lured to a dinner party by a teenage girl whose mother has vanished under mysterious circumstances; a woman and her lover swim the pools of their neighborhood under cover of darkness; a young heiress struggles with mortality and the abandonments in her past.
These stories capture the domestic world in all its blighted promise—a world where women's roles in housekeeping, marriage, childbirth, and sex have been all too well defined, and where the characters fashion, recklessly and passionately, their own methods of escape.
  
About the Author
Karen Brown is the author of Pins and Needles: Stories, winner of the Grace Paley Prize for Short Fiction, and The Longings of Wayward Girls: A Novel. Her stories have been included in The PEN/O. Henry Prize Stories 2009 and The Best American Short Stories 2008.
Praise For Little Sinners, and Other Stories (Prairie Schooner Book Prize in Fiction)…
"Starting with the title story, about two friends whose cruel childhood prank has unexpected consequences, Brown delivers engaging gems with well-drawn heroines, mostly teenage girls or unhappy wives, whose fates are twisted by the interplay of love and death. . . . The suspenseful writing and menacing erotic tension have a narrative pull that compels attention."—Publishers Weekly starred review
— Publishers Weekly
"Brown's detailed style, meticulous in describing character and place, creates realistic slices of life. . . . Her stories will appeal to short-fiction readers for their strength of style and depth of emotional resonance."—Ellen Loughran, Booklist
— Ellen Loughran
"Karen Brown pulls off a Steinbeck-ian trifecta (powerful realism, literary depth, and unpretentious storytelling) with Little Sinners. This is a powerful and rare achievement that defines only topnotch authors."—Michael Adelberg, New York Journal of Books
— Michael Adelberg
"In a era where female writers and characters are still sometimes marginalized, Karen Brown and a collection like Little Sinners and Other Stories ought to championed, not because of who wrote it, but because its mastery of the art form."—Word/Sound
— Word/Sound
"Brown's emotional stories cut to the quick. They wound; they scar. The stories in Little Sinners are intelligent, dark, deep, and murky, much like a woman's soul. Brown has a keen sense of what works. . . . I dare you to read Little Sinners and come away empty."—Bookmagnet's Blog
— Bookmagnet's Blog
"One of the greatest strengths of Little Sinners, and Other Stories is the way Brown ends each piece. She has a knack for the backhanded reveal and settling into just the right emotional pitch, something between despair and anxious resignation, a feeling that aptly fits her characters and settings. Her endings are complicated moments, revelations of the tension between wanting to give in or wanting to give up in the face of one's interior darkness."—Michelle Bailat-Jones, Necessary Fiction
— Michelle Bailat-Jones
"Karen Brown is a clever writer and as a result of that her stories are silent strikers on the psyche. Little Sinners and other stories will be a lasting memory."—Portland Book Review
— Portland Book Review