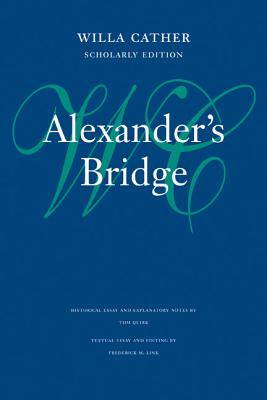 Alexander's Bridge (Willa Cather Scholarly Edition) (Paperback)
Bison Books, 9780803243491, 333pp.
Publication Date: November 1, 2012
Other Editions of This Title:
Paperback (6/1/2015)
Paperback (3/30/2014)
Paperback (8/11/2018)
Paperback (9/9/2019)
Paperback (3/16/2019)
Paperback (8/22/2018)
Paperback (12/24/2018)
Paperback (12/1/2004)
Paperback (4/4/2016)
Paperback (10/2/2019)
Paperback (4/6/2010)
Paperback (4/3/2015)
Paperback (7/30/2008)
Paperback (7/30/2008)
Paperback (11/24/2018)
* Individual store prices may vary.
Description
Engineer Bartley Alexander appears to have a happy life in Boston with a successful career and a beautiful wife. He has been commissioned to design the Moorlock Bridge in Canada, the most important project of his career. With the onset of middle age, however, he grows increasingly restless and discontented, so much so that while in London he recklessly reignites a love affair with the sweetheart of his youth, the Irish actress Hilda Borgoyne. Although the tryst allows Alexander to recapture an element that has been missing from his pedestrian life, the relationship torments his sense of morality and eventually proves disastrous. Alexander's Bridge explores the demands of Gilded Age society on the individual, as well as the capacity of the individual to violate his own standards of integrity.
This Willa Cather Scholarly Edition provides an illuminating new framework for Cather's debut novel. The novel is edited according to standards set by the Committee for Scholarly Editions of the Modern Language Association and presents the full range of biographical, historical, and textual information now available, complete with illustrations and maps.
About the Author
Tom Quirk is a professor of English at the University of Missouri-Columbia and the author of Bergson and American Culture: The Worlds of Willa Cather and Wallace Stevens. Frederick M. Link is a professor emeritus of English at the University of Nebraska–Lincoln and the textual editor of One of Ours, Obscure Destinies, and Shadows on the Rock.
Praise For Alexander's Bridge (Willa Cather Scholarly Edition)…
"This scholarly edition does justice to Cather's notoriously particular production requirements. The material and editorial quality of the book meets very high standards, with the paper, the visual presentation of the words on the page, the rigor of the editing and proofreading, the thoroughness of the notes, and the detailed explanation of editorial decisions all illustrating impeccable scholarship. The historical essay and the illustrations provide useful information. . . . This volume stands as a model of scrupulous, indeed loving, scholarship. It offers a fully elaborated, beautiful text that even Cather, despite her effort to bury the book, might be proud to acknowledge."—Great Plains Quarterly

— Great Plains Quarterly