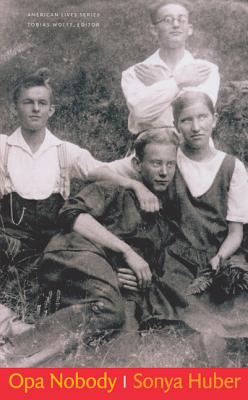 Opa Nobody (American Lives )
Paperback

* Individual store prices may vary.
Other Editions of This Title:
Hardcover (3/1/2008)
Description
It had come to this: breast-feeding her screaming three-month-old while sitting on the cigarette-scarred floor of a union hall, lying to her husband so she could attend yet another activist meeting, and otherwise actively self-destructing. Then Sonya Huber turned to her long-dead grandfather, the family "nobody," for help.
Huber's search for meaning and resonance in the life of her grandfather Heina Buschman was unusual insofar as she knew him only through dismissive family stories. He let his wife die of neglect . . . he used his infant son as a decoy when transporting anti-Nazi literature in a baby carriage . . . and so the stories went. What she actually discovered was that, like his granddaughter, Heina Buschman was a beleaguered but committed activist whose story echoed her own.
Through her research, Huber not only conjured her grandfather's voice in answer to many of the questions that troubled her but also found in his story a source of personal sustenance. Based on extensive research and documentation, this story of Heina Buschman offers a rare look into the heart of the "average" socialist trying to survive the Nazis and rebuild a broken world. Alternating with his voice is Huber's own, providing a rich and moving counterpoint that makes this deeply personal exploration of family, politics, and individual responsibility a story for all of us and for all time.

Praise For Opa Nobody (American Lives )…
"Sharp human insights on the omnipresent moral complications of living in Nazi Germany make this a worthwhile read. . . . [A] unique, imaginative take on the family memoir."—
Kirkus Reviews 
"Grounded in extensive research and enriched by family anecdotes. . . . The result is thoughtful discourse on political activism and the toll exacted from those dedicated to unpopular causes."—Deborah Donovan,
Booklist
"In her first book, teacher and activist Huber reaches across time and space to find guidance and camaraderie in the reconstructed life of Heina Buschmann, the German grandfather she never met. . . . Family relationships and political situations are wrought finely enough to illustrate what's at stake for Heina."—
Publishers Weekly
"In every chapter, [Huber] weaves stories of her activist life with richly imagined scenes of her grandfather, reconstructing his life from anecdotes and documentary evidence. . . . Most radically of all for a progressive activist, Huber embraces the past. Instead of tossing it all out in search of something new, she ties a firm knot between then and now."—Los Angeles Times
 


"Opa Nobody is good, folks. . . . Fiction and nonfiction flow together so easily under Huber's control that it looks easy to accomplish. . . . Opa Nobody is a masterful book and a testament to the talent of its author. After reading this, there will be many people impatient for Sonya Huber's next work. I am."—Conan Stuart, Connect Statesboro

"Writing family history is a notoriously fraught enterprise. . . . Sonya Huber's book of creative nonfiction, Opa Nobody, tracks an innovative course through this thorny landscape. . . . [I]t is precisely Huber's play with the imaginative possibilities in the gaps between historical fact and family memory that makes her project so poetic and moving. . . . Through her admirably candid writing, Huber makes visible the inability of political activism to manage failure and despair."—Valerie Weaver-Zercher, The Christian Century
University of Nebraska Press, 9780803243620, 380pp.
Publication Date: January 1, 2013
About the Author
Sonya Huber is an assistant professor of English at Fairfield University. She is the author of Cover Me (Nebraska, 2010) as well as the textbook The Backwards Research Guide for Writers, and many essays and articles.