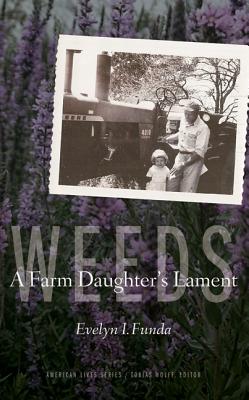 Weeds: A Farm Daughter's Lament (Paperback)
A Farm Daughter's Lament
Bison Books, 9780803244962, 297pp.
Publication Date: September 1, 2013
Description
In Thomas Jefferson's day, 90 percent of the population worked on family farms. Today, in a world dominated by agribusiness, less than 1 percent of Americans claim farm-related occupations. What was lost along the way is something that Evelyn I. Funda experienced firsthand when, in 2001, her parents sold the last parcel of the farm they had worked since they married in 1957. Against that landscape of loss, Funda explores her family's three-generation farming experience in southern Idaho, where her Czech immigrant family spent their lives turning a patch of sagebrush into crop land.

The story of Funda's family unfolds within the larger context of our country's rich immigrant history, western culture, and farming as a science and an art. Situated at the crossroads of American farming, Weeds: A Farm Daughter's Lament offers a clear view of the nature, the cost, and the transformation of the American West. Part cultural history, part memoir, and part elegy, the book reminds us that in losing our attachment to the land we also lose some of our humanity and something at the very heart of our identity as a nation.

About the Author
Evelyn I. Funda is an associate professor of American literature at Utah State University. She has written extensively on Willa Cather and her creative nonfiction has appeared in literary magazines, including Prairie Schooner.
Praise For Weeds: A Farm Daughter's Lament…
"Weeds is a loving, poignant, and insightful story. I'm placing my copy of it on the same shelf in my home library as the western memoirs of William Kittredge, Linda Hasselstrom, Ivan Doig, and Terry Tempest Williams."—Lisa Knopp, author of What the River Carries
-Lisa Knopp

"Funda writes about farming, family, love, and loss with the ear of a poet and the eye of a scholar. . . . Weeds is a soulful, intelligent reexamination of what it means to be an orphaned daughter of the American Dream."—Kim Barnes, author of In the Kingdom of Men
-Kim Barnes

"Weeds is written with a scholar's exactitude and a daughter's heart. Her book is a beautiful meditation on the generations that have lived and farmed and passed along the painful, powerful legacies of the land that claimed them."—Mary Clearman Blew, author of This Is Not the Ivy League
-Mary Clearman Blew
Advertisement