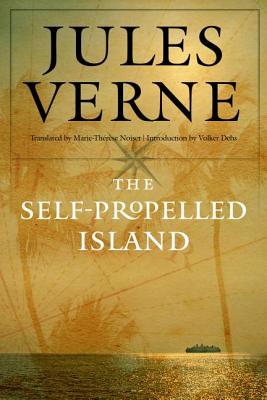 The Self-Propelled Island (Bison Frontiers of Imagination ) (Hardcover)
Bison Books, 9780803245822, 352pp.
Publication Date: July 1, 2015
Other Editions of This Title:
Paperback (7/1/2015)
* Individual store prices may vary.
Description
The Self-Propelled Island is the first unabridged English translation of Jules Verne's original story featuring a famous French string quartet that is abducted by an American businessman and taken to Standard Island to perform for its millionaire inhabitants. The quartet soon discovers that Standard Island is not an island at all, but an immense, futuristic ship possessing all the features of an idyllic haven.  Equipped with the most opulent amenities, Standard Island travels the Pacific Ocean, traversing the south archipelagos and stopping at many "sister" islands for the pleasure of its well-heeled inhabitants. These inhabitants soon meet with the danger, in its various forms, that is inherent in ocean travel. Meanwhile, the French quartet is witness to the rivalry that exists between the two most powerful families onboard, a rivalry that keeps the future of the island balancing on the edge of a knife.

First published in English in 1896, the novel was originally censored in translation. Dozens of pages were cut from the story because English translators felt they were too critical of Americans as well as the British. Here, for the first time, readers have the pleasure of reading The Self-Propelled Island as Verne intended it.

About the Author
Jules Verne (1828–1905), the world's most translated author, wrote numerous classics of adventure and science fiction, including The Meteor Hunt, Lighthouse at the End of the World, The Golden Volcano, and Magellania, which are all available from the University of Nebraska Press. Marie-Thérèse Noiset is a professor emerita of French and translation at the University of North Carolina at Charlotte. She has also translated Caught in the Storm by Seydou Badian. Volker Dehs is a German literary critic and leading Jules Verne specialist and biographer.

Praise For The Self-Propelled Island (Bison Frontiers of Imagination )…
"We're in the midst of a marvelous Verne renaissance. . . . The Self-Propelled Island is a novel of great appeal, especially to Americans: by sending northern and southern aristocrats to sea in literally the same boat, it not only features one of Verne's fabulous futuristic vehicles but also unfolds one of his shrewdest, wittiest political satires."—Frederick Paul Walter, Verne translator and former vice president of the North American Jules Verne Society
— Frederick Paul Walter