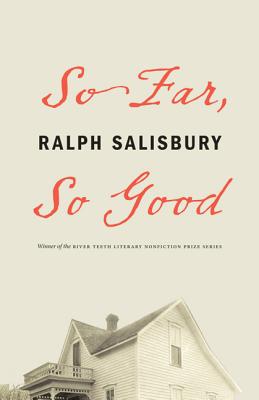 So Far, So Good (Paperback)
University of Nebraska Press, 9780803245921, 274pp.
Publication Date: April 1, 2013
Description
Bullet-shattered glass clatters onto his baby bed; he wakes and cries out into darkness. Does he remember this? Or remember being told? Regardless, he feels it, and will feel it again, bomb bay wind buffeting his eighteen-year-old body a mile above an old volcano's jagged debris, and yet again, staring at photos of Korean orphans, huddled homeless in a blizzard after a bombing in which, at twenty-five, he'd refused an order to join. It is through such prisms of the past that Ralph Salisbury's life unfolds, a life that, eighty years in the making, is also the life of the twentieth century. Winner of the River Teeth Literary Nonfiction Prize, So Far, So Good is a sometimes strange, sometimes lyrical, and often humorous attempt by an inveterate storyteller to recount "just things as they were."
The survivor of a lightning strike, car and plane mishaps, explosions, bullets, a heart attack, cancer, and other human afflictions, Salisbury wonders: "Why should anyone read this?" The book itself resoundingly answers this question not merely with its sheer eventfulness but also in the prodigious telling. Salisbury takes us from abject poverty in rural Iowa during the Great Depression, with a half Cherokee father and an Irish American mother, through war and peace and protest to the freedom and solace of university life; and it is in the end (so far) so good.
About the Author
Ralph Salisbury is the 2015 recipient of the C.E.S. Wood Retrospective Award (celebrating a distinguished career in Oregon letters), the Rockefeller Bellagio Award in fiction, and the Northwest Poetry Award. His most recent books are Blind Pumper at the Well, The Indian Who Bombed Berlin, and Light from a Bullet Hole. Salisbury's thirteen books evoke his Cherokee-Shawnee-Irish-English-American heritage.
Praise For So Far, So Good…
"Ralph Salisbury's So Far, So Good will take its place beside Scott Momaday's The Names and Joy Harjo's Crazy Brave as a major addition to the ever-growing genre of contemporary Native American autobiography."—Geary Hobson, author of Plain of Jars and Other Stories
-Geary Hobson

"A Native American, a Vanishing American, Ralph Salisbury writes of a vanishing life, but in this brave and startling memoir, it is the life of a poet-warrior that will never be forgotten."—Patty Dann, author of Mermaids
-Patty Dann
Advertisement