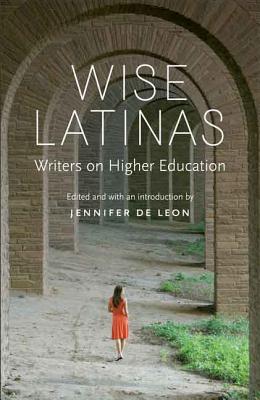 Wise Latinas
Writers on Higher Education
Paperback

* Individual store prices may vary.
Description
College can be a complex time for Latinas, who are traditionally expected to leave home when they get married. In her essay "Only Daughter," author Sandra Cisneros remarks, "After four years in college and two more in graduate school, and still no husband, my father shakes his head even now and says I wasted all that education."

Wise Latinas is a collection of personal essays addressing the varied landscape of the Latina experience in higher education. For some Latinas, college, where they are vastly underrepresented, is the first time they are immersed in American culture outside their homes—and where the values of two cultures often clash. Wise Latinas is in part a response to this widening gap.

Featuring acclaimed writers such as Sandra Cisneros, Norma Cantú, and Julia Alvarez, to name a few, Wise Latinas shows that there is no one Latina college experience. With thoughtful and engaging pieces, Wise Latinas provides a platform for Latina writers to share their experiences in higher education and gives a voice to the many Latina women who have taken risks; embraced the new, confronted change; and maintained (and in some cases found) their roots.

Praise For Wise Latinas: Writers on Higher Education…
"The abundance of high-quality material makes the book hard to put down."—
Kirkus
"[
Wise Latinas
] holds relevance for any young person setting out of their homes for the first time."—Ru Freeman,
Huffington Post
"An extraordinary collection of testimonies. There is plenty of honesty and no pretension in the voices included in Wise Latinas. These essays elicit the gamut of emotions from the reader, from chuckles to gasps to tears. An excellent anthology."—Rigoberto González, author of Butterfly Boy: Memories of a Chicano Mariposa
"On the most fundamental level, Wise Latinas aims to provide models for other Latinas. . . . [It was] a joy to read this book, and a reminder of the footsteps that we all trace."—Marta Caminero-Santangelo, author of On Latinidad: U.S. Latino Literature and the Construction of Ethnicity

University of Nebraska Press, 9780803245938, 240pp.
Publication Date: March 1, 2014
About the Author
Jennifer De Leon is a teacher in the Boston Public Schools district and an instructor at the Grub Street Creative Writing Center. Her writing has appeared in Ploughshares, Fourth Genre, Ms. Magazine, Poets & Writers, The Best Women's Travel Writing 2010, and elsewhere.