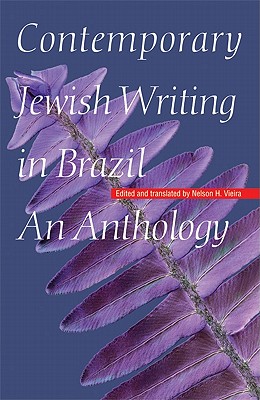 Contemporary Jewish Writing in Brazil
An Anthology (Jewish Writing in the Contemporary World)
Hardcover

* Individual store prices may vary.
Description
Contemporary Jewish Writing in Brazil showcases a diverse range of modern Jewish writers from one of South America's most vibrant, multicultural communities. Brazil's population is largely Catholic; its Jewish population today numbers about 120,000 mostly upwardly mobile Jews living in Rio de Janeiro, São Paulo, and Pôrto Alegre. Brazilian Jewish writers often use the testimonial and fantastic modes of Latin American literature to expose anti-Semitism, explore the challenges and opportunities for the Jewish diaspora in South America, and reexamine historical and cultural connections to the Old World. This anthology features the work of such internationally recognized figures as Moacyr Scliar and Clarice Lispector, including two early stories by Lispector that have never before appeared in English translation. Of special note are Samuel Rawet, the father of modern Jewish writing in Brazil; Alberto Dines, a prominent public and literary figure in the 1970s and 1980s; and more recently acclaimed writers such as Cíntia Moscovich.
Praise For Contemporary Jewish Writing in Brazil: An Anthology (Jewish Writing in the Contemporary World)…
"[Contemporary Jewish Writing in Brazil] is an all-around worthy introduction to a body of writing that may be new to many members of the Anglophone reading public."—Naomi Lindstrom, Shofar

"This anthology . . . belongs in every research library in America."—Clifford E. Landers, Review 83

"This anthology is an excellent resource for anyone interested in literature, not only for academics. . . . It incorporates a variety of texts and authors, some that have immigrated to Brazil and some that were already born there, from different generations, with different views of what it means to be Jewish."—Paula Rodriquez Pontes, South Atlantic Review
University of Nebraska Press, 9780803246621, 386pp.
Publication Date: January 1, 2010
About the Author
Nelson H. Vieira is a professor in the Department of Portuguese and Brazilian Studies and the Department of Judaic Studies at Brown University. He is the editor and translator of Samuel Rawet's The Prophet and Other Stories and the author of Jewish Voices in Brazilian Literature: A Prophetic Discourse of Alterity. Contributors: Bernardo Ajzenberg, Roney Cytrynowicz, Alberto Dines, Francisco Dzialovsky, Judith Grossmann, Jacó Guinsburg, Marcos Iolovitch, Paulo Jacob, Esther Largman, Jaime Lerner, Eliezer Levin, Clarice Lispector, Elisa Lispector, Samuel Malamud, Cíntia Moscovich, Rosa Palatnik, Samuel Rawet, Samuel Reibscheid, Sônia Rosenblatt, Moacyr Scliar, and Amália Zeitel.