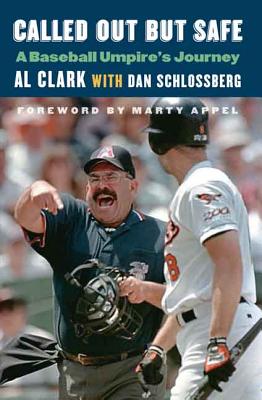 Called Out but Safe
A Baseball Umpire's Journey
Hardcover

* Individual store prices may vary.
Description
If an umpire could steal the show in a Major League game, Al Clark might well have been the one to do it. Tough but fair, in his thirty years as a professional umpire he took on some of baseball's great umpire baiters, such as Earl Weaver, Billy Martin, and Dick Williams, while ejecting any number of the game's elite—once tearing a hamstring in the process. He was the first Jewish umpire in American League history, and probably the first to eject his own father from the officials' dressing room. But whatever Clark was doing—officiating at Nolan Ryan's three hundredth win, Cal Ripken's record breaker, or the "earthquake" World Series of 1989, or braving a labor dispute, an anti-Semitic tirade by a Cy Young Award winner, or a legal imbroglio—it makes for a good story.
 Called Out but Safe is Clark's outspoken and often hilarious account of his life in baseball from umpire school through the highlights to the inglorious end of his stellar career. Not just a source of baseball history and lore, Clark's book also affords a rare look at what life is like for someone who works for the Major Leagues' other team. 
 
Praise For Called Out but Safe: A Baseball Umpire's Journey…
"Clark, having called well over 3,000 MLB games, offers a perspective that is engaging as well as steeped in personal experience. It will be of interest to any baseball fan."—Brian Renvall,
Library Journal
"Everything about
Called Out But Safe
is personal, and thank goodness for it."—Don Laible,
Utica Observer-Dispatch
"Al Clark never threw me out of a game, but Billy Martin wasn't so fortunate. I not only witnessed his confrontations with Al but enjoyed remembering them in this book."—Ron Blomberg, first designated hitter


"Some of the nicest conversations I've had in forty-two years of baseball have been with umpires. I loved any time spent with my friend Al Clark. Enjoy some great baseball stories from a man who once had a front-row seat in our great game."—Chris Wheeler, Phillies broadcaster

"Books from umpires are infrequent and refreshing. . . . It is baseball's timeless field of vision that offers the vantage where Clark made a living for more than twenty-five years. From a reader's perspective it's a point of view worth sharing."—The Plain Dealer (Cleveland)
 
University of Nebraska Press, 9780803246881, 240pp.
Publication Date: May 1, 2014
About the Author
Al Clark was a professional umpire for thirty years, working more than three thousand games, including two All-Star Games, seven playoff series, and two World Series. Former AP sportswriter Dan Schlossberg is the author or coauthor of more than thirty baseball books, including Designated Hebrew: The Ron Blomberg Story and Making Airwaves: 60 Years at Milo's Microphone.