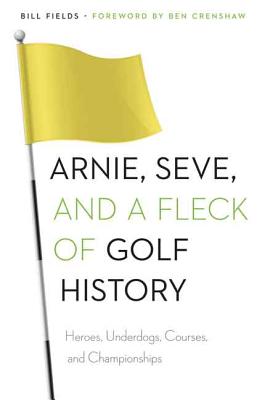 Arnie, Seve, and a Fleck of Golf History
Heroes, Underdogs, Courses, and Championships
Paperback

* Individual store prices may vary.
Description
In a long, award-winning career writing about golf, Bill Fields has sought out the most interesting stories—not just those featuring big winners and losers, but the ones that get at the very character of the game. Collected here, his pieces offer an intriguing portrait of golf over the past century. The legends are here in vivid profiles of such familiar figures as Sam Snead, Arnold Palmer, Mickey Wright, and Tiger Woods. But so are lesser-known golfers like John Schlee, Billy Joe Patton, and Bert Yancey, whose tales are no less compelling.
The book is filled with colorful moments and perceptive observations about golf greats ranging from the first American-born U.S. Open champion, Johnny McDermott, to Seve Ballesteros, the Spaniard who led Europe's resurgence in the game in the late twentieth century. Fields gives us golf writing at its finest, capturing the game's larger dramas and finer details, its personalities and its enduring appeal.
Praise For Arnie, Seve, and a Fleck of Golf History: Heroes, Underdogs, Courses, and Championships…
"
Arnie, Seve, and a Fleck of Golf History
is a must-read for anyone with an interest in the history of the people and events of the game of golf.."—Gary McCormick, examiner.com
"An entertaining and informative read."—Lisa Timpf, AETHLON
"Anyone who considers himself a true golf fan must add this excellent work of golf history to their literary collection."—Fred Altvater,
Bleacher Report
"Engaging and fun to read."—George B. Kirsch,
Journal of Sport History
"Nobody knows the game of golf and many of the quaint people who have inhabited it better than Bill Fields, and I've never read anyone who gets them down on paper better than he does. You'll enjoy this book more than a string of birdies if you care anything at all about the sport."—Dan Jenkins, author of Dead Solid Perfect and Jenkins at the Majors
"Bill Fields's field isn't golf; it's people. With a reporter's instinct and a writer's empathy, he specializes in stories only he can see. Don't read him unless you're ready to laugh and cry. Both."—Tom Callahan, author of Johnny U
University of Nebraska Press, 9780803248809, 344pp.
Publication Date: June 1, 2014
About the Author
Veteran sports journalist Bill Fields is a four-time winner of the Golf Writers Association of America's annual writing contest. A former senior editor at Golf World, his work has also appeared in Golf Digest, the New York Times, and The Best American Sports Writing.