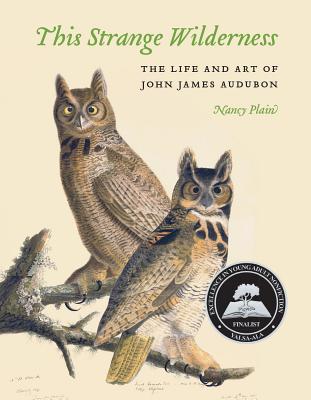 This Strange Wilderness
The Life and Art of John James Audubon
Paperback

* Individual store prices may vary.
Description
Birds were "the objects of my greatest delight," wrote John James Audubon (1785–1851), founder of modern ornithology and one of the world's greatest bird painters. His masterpiece, The Birds of America depicts almost five hundred North American bird species, each image—lifelike and life size—rendered in vibrant color. Audubon was also an explorer, a woodsman, a hunter, an entertaining and prolific writer, and an energetic self-promoter. Through talent and dogged determination, he rose from backwoods obscurity to international fame.
In This Strange Wilderness, award-winning author Nancy Plain brings together the amazing story of this American icon's career and the beautiful images that are his legacy. Before Audubon, no one had seen, drawn, or written so much about the animals of this largely uncharted young country. Aware that the wilderness and its wildlife were changing even as he watched, Audubon remained committed almost to the end of his life "to search out the things which have been hidden since the creation of this wondrous world." This Strange Wilderness details his art and writing, transporting the reader back to the frontiers of early nineteenth-century America.
Purchase the audio edition.
Praise For This Strange Wilderness: The Life and Art of John James Audubon…
"Plain chronicles Audubon's adventurous life in a succinct, absorbing narrative that is well researched, meticulously documented, and beautifully written. . . . This biography offers a vivid introduction to Audubon's life and work."—Carolyn Phelan, Booklist starred review

"Like Audubon's paintings, this volume 'glow[s] with life.' A superb introduction to the life and times of a great American artist and naturalist."—Kirkus starred review

"Nancy Plain provides readers of all ages a concise introduction to the naturalist's prophetic role in the establishment of the American conservation movement."—True West

"Plain has chosen quirky and interesting snippets of Audubon's life, nicely illustrated with 44 color plates, for this readable and fascinating little book."—Star Tribune

"Definitely a book children and adults will enjoy."—Roundup Magazine

"This Strange Wilderness is like walking through a secret door into early nineteenth-century America. Nancy Plain's stellar prose and meticulous research, combined with the glorious paintings of John James Audubon, will delight readers of all ages."—Candace Simar, author of the Spur Award–winning Abercrombie Trail series 

University of Nebraska Press, 9780803248847, 136pp.
Publication Date: March 1, 2015
About the Author
Nancy Plain is the author of numerous children's books, including Light on the Prairie: Solomon D. Butcher, Photographer of Nebraska's Pioneer Days (available in a Bison Books edition), winner of the Spur Award for Best Western Juvenile Nonfiction, the Nebraska Book Award for Youth Nonfiction and the Will Rogers Medallion Award.