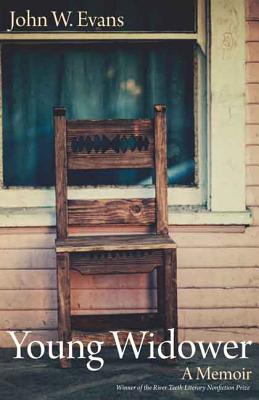 Young Widower
A Memoir (River Teeth Literary Nonfiction Prize)
Paperback

* Individual store prices may vary.
Description
John W. Evans was twenty-nine years old and his wife, Katie, was thirty. They had met in the Peace Corps in Bangladesh, taught in Chicago, studied in Miami, and were working for a year in Romania when they set off with friends to hike into the Carpathian Mountains. In an instant their life together was shattered. Katie became separated from the group. When Evans finally found her, he could only watch helplessly as she was mauled to death by a brown bear.
In such a love story, such a life story, how could a person ever move forward? That is the question Evans, traumatized and restless, confronts in this book as he learns the language of grief, the rhetoric of survival, and the contrary algorithms of holding fast and letting go. His memories of Katie and their time together, and the strangeness of his life with her family in the year after her death, create an unsentimental but deeply moving picture of loss, the brutality of nature, and the unfairness of needing to narrate a story that nothing can prepare a person to tell.
Told with unyielding witness, elegance, and care, Young Widower is a heartbreaking account of a senseless tragedy and the persistence of grief in a young person's life.
Praise For Young Widower: A Memoir (River Teeth Literary Nonfiction Prize)…
"A tragic story told with such grace and artistry that the complex exploration of grief is finally revealed as redemptive. The honesty of John Evans's writing is unfaltering and deeply impressive."—Kevin Casey, author of A State of Mind
 

"In this honest depiction of his deceased wife and their loving but complicated marriage, and in his willingness to end his story without easy redemption, Evans avoids the predictable arc of many memoirs. . . . Thanks to honest and sadly beautiful books like Young Widower, we are at the very least helpless together. We can't go on, we'll go on."—Nicholas Montemarano, Los Angeles Review of Books          



"This book brims with unforgettable images and moments, but Evans's greatest achievement is allowing readers to see his wife, Katie, as he did—not as a saint or as a martyr, but as a passionate and dynamic and flawed woman whom he deeply loved."—Justin St. Germain, author of Son of a Gun
 

"While the haunting account of the day Katie died is especially riveting, it is the unfolding and cathartic grieving process that underpins and elevates this heartbreaking tale."—Margaret Flanagan, Booklist

"For those times when life is bitter and unreasonable, there are stories like John's—books that accept the ugliness of both death and survival and remind us to be grateful and angry and preciously alive."—Books J'Adore

"An urgent, palpably emotional account of coping with extreme grief."—Kirkus

"Though the tragedy of Evans's title is borne out, his memoir brims with maturity and authenticity, and it should find a ready readership with those who have lived through incredible loss. Young Widower is both a loving tribute to a cherished spouse and a testament to survival."—Michelle Anne Schingler, ForeWord
University of Nebraska Press, 9780803249523, 200pp.
Publication Date: March 1, 2014
About the Author
John W. Evans, a recent Wallace Stegner Fellow at Stanford University, teaches creative writing at Stanford. His award-winning work appears in Slate, the Missouri Review, ZYZZYVA, and the Rumpus.