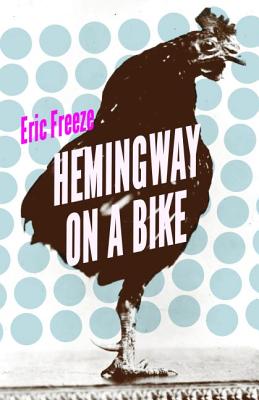 Hemingway on a Bike
Paperback

* Individual store prices may vary.
Description
A collage-like mash-up of personal anecdote, popular culture, masculinity, sports, and parenting, Hemingway on a Bike takes readers through the many and varied twists and turns of the life and mind of its author, Eric Freeze. Delving into obsessions and experiences, Freeze's essays display a keen intelligence with insights on topics as diverse as Mormonism and foosball, Angry Birds and professional wrestling, superheroes and freebirthing, Ernest Hemingway and Star Trek.
"Carnecopia" mashes experiences fishing and snorkeling with an exhibit at Monaco's oceanographic museum to comment on how human beings unwittingly enact harm on their environment. "Bolt" explores the author's fascination with sprinting and shares moments in France and the Midwest, where the words "to bolt" sometimes have unforeseen consequences. "Supergirl" plays on the childhood fascination with superheroes juxtaposed with adulthood manifestations of gendered expectations.
By turns playful, poignant, celebratory, and searching, Hemingway on a Bike meanders through ruminations on a number of subjects, and these reflections combine to dissect identity, belonging, and migration in an age when borders and boundaries, whatever the type, are continually transgressed and traversed.
Praise For Hemingway on a Bike…
"Freeze covers a broad range of strange topics, from foosball to beards, pro wrestling to Vulcans, Angry Birds to barracudas. Freeze artfully captures not only his meditations on these varied subjects, but his enticing imagination as well. And his playfulness is contagious."—Elizabeth Brady,
Brevity
"Freeze's book provides an invaluable piece of equipment, a unique and useful tool."—Brenda Sieczkowski, Ocean State Review
"Bodybuilding Jesuses, glorious thorough moving explorations of the word 'bolt,' the search for the finest foosball table in the world, beardlessness, wrestling, the many glories of Canada, towns filled with Vulcans, superheroes, house-lust, love, pain—a wry and piercing collection of adventures and misadventures from a terrific essayist. A book both tart and gentle, which I savored from the first line to the last."—Brian Doyle, author of Mink River and Leaping


"Eric Freeze is the kind of thoughtful writer and parent who will help us save the world."—Bonnie Jo Campbell, author of Once Upon a River and American Salvage


"Intelligent, curious, and self-effacing, Hemingway on a Bike represents a truly singular work of creative nonfiction. Meditating on an improbably diverse range of subjects—including foosball, superheroes, Mormonism, home birthing, beards, fishing, Vulcans, and professional wrestling—Freeze proves himself to be the kind of writer who knows exactly how to plumb the idiosyncrasies of his own experience, and the results are playful and profound."—Matthew Vollmer, author of Inscriptions for Headstones and editor of Fakes: An Anthology of Pseudo-interviews, Faux-lectures, Quasi-letters, "Found" Texts, and Other Fraudulent Artifacts



"A wonderful book of essays, wry and wise, in which Eric Freeze considers what it is to be a twenty-first-century literary man's man in all his house-remodeling, sweet-parenting, foosball-playing glory."—Jess Walter, author of Beautiful Ruins and The Financial Lives of the Poets
University of Nebraska Press, 9780803249752, 164pp.
Publication Date: October 1, 2014
About the Author
Eric Freeze is an associate professor of English at Wabash College. He is the author of Dominant Traits: Stories and has published essays, stories, and translations in a variety of periodicals including Boston Review, Harvard Review, and the Southern Review.